Business card front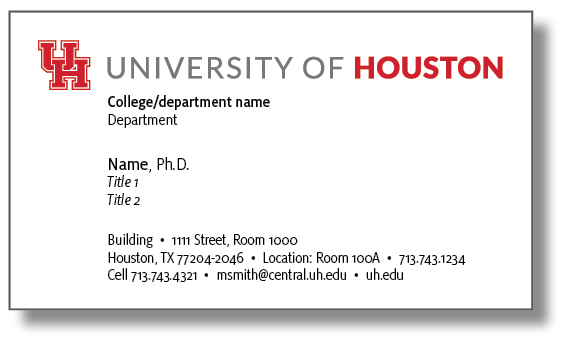 Along with the order form (see link below), please include the following information with your business card order:
College or department (forty-five characters maximum)
Department or sub-department (fifty characters maximum)
Card-holder name and degrees (fifty characters maximum)
Personal titles, maximum of two lines, no more than 50 characters per line
Address:
complete UH Postal approved address corresponding to the college or department at the top of the card (including building name, Postal room number, and ZIP)
Location: optional details to the specific physical address of the card-holder
Other contact information: UH phone number, UH email, UH web address (If no specific web address is provided, then uh.edu will be used.)
Optional information: cell phone number, UH Fax (seldom used), UH social media handles (no logo)
Please note that various phone numbers (apart from the cell number) and electronic addresses must link to UH approved sites for liability reasons. (Personal web addresses are not allowed.) Web addresses will not display 'www' (unless indispensable … please specify).

There is a special "easy reader" business card, with increased font size for better legibility. However, in this case, the number of characters is reduced, only allowing for one title line below the name. The text should also be reduced to the essential elements. Contact COpy and Print Services for details.

Business card back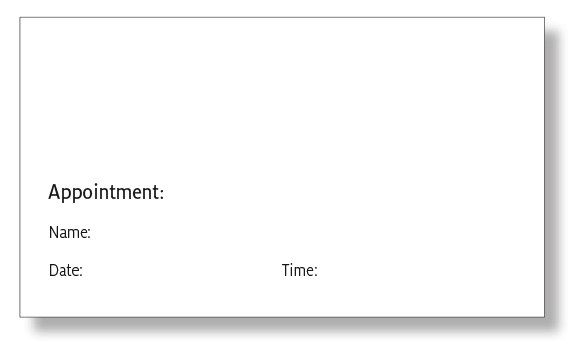 The backs of business cards will generally be blank. An exception is made for an appointment panel (see below), as well as the wordmarks for certain Marketing approved foundations and National Centers.
 For questions about the back of business cards, please contact Copy and Print Services.