Vice President for Community Relations and Institutional Access, UH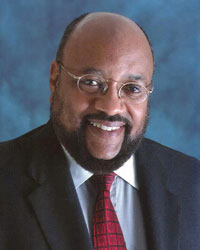 Elwyn C. Lee spent his early years in Houston, Texas before leaving for Phillips Academy (Andover) where he graduated in 1967. He matriculated to Yale College where he graduated magna cum laude in 1972 and then on to Yale Law School (1975). After a three year stint at the Wilmer, Cutler & Pickering law firm in Washington, D.C., (now Wilmer & Hale), Lee joined the University of Houston Law Center where he taught employment law, personal injury law, administrative law and ethics. Lee served with distinction as chair of several Texas and Houston Bar Association committees on his way to becoming the first African-American tenured law professor in l984.
Moving into administration Lee served three semesters as the interim director of the UH African-American Studies program. From 1991 to 2011 Lee served as Vice President for Student Affairs responsible for the division of Student Affairs comprised of a broad array of student services at various times such as: enrollment, orientation, housing, campus activities, student discipline, career services, counseling, health center, religion center, disability services, university center, recreation, veteran services, and international student services. Responsibility for student services across the entire UH System was added to his duties in 1998, when he became Vice Chancellor for Student Affairs. His achievements include developing the world class Campus Recreation & Wellness Center enjoyed by thousands of UH student, faculty and staff each week; building the center for student with disabilities, resurrecting debate and forensics; and establishing the behavioral intervention team. He also spearheaded several housing projects comprising over 3000 beds including greek housing. 
In February 2011 Lee was appointed to his current position where he focuses on developing a more inclusive campus at all levels, enhancing diversity and expanding access for talented underrepresented individuals. He is the President's liaison to the University Commission on Women and oversees The Women's Resource Center (WRC), the Lesbian Gay Bisexual and Transgender resource center (LGBT),  and the Justin Dart, Jr. Student Accessibility Center.  Lee has served on many local boards such as the March of Dimes and the Sam Houston Area Council Boy Scouts. He is married to Congresswoman Sheila Jackson Lee; they have two children: Erica and Jason, graduates of UNC/Duke and Harvard respectively.