Spotlight Spotlighting a UH Woman Each Month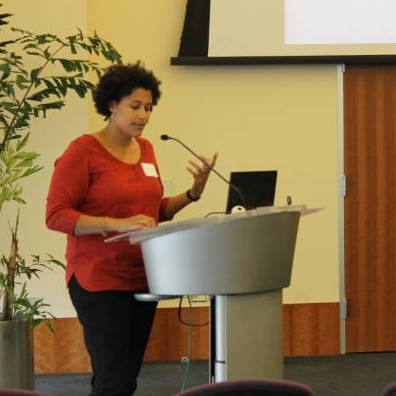 Dr. Rachel Afi-Quinn
    What is your position and title at UH?
For 2014-2015 I am a visiting faculty fellow in Women's Gender & Sexuality Studies (WGSS).
    How long have you worked here?
I came to Houston in fall of 2012 as a WGSS Postdoctoral Fellow just after finishing up my degree in American studies at the University of Michigan.
   What are your job responsibilities and duties?
In my first year at UH, I taught the introduction to women's studies course in WGSS in the fall and the inaugural introduction to global studies course in Comparative Cultural Studies (CCS) in the spring.  I also taught the required course in feminist theory and methodology for the WGSS graduate certificate.  In the coming year, I will teach two new undergraduate courses in WGSS: Gender, Society and Feminist Theory and Gender and Transnational Society.
I have been involved in growing and developing the WGSS program and is a really exciting place to be—we currently offer minors in Women's Studies and LGBT studies and a graduate certificate and we hope to soon offer a major. I have had the opportunity to work with the Friends of Women's Studies, a community of influential women in Houston that supports our program's work.  And last year I coordinated a group of people across several different UH departments and campuses, along with community organizations, to have a colloquium on gender based violence from South Asia to Houston.  Out of that conversation a lot of excellent connections were forged and resources on the topic are now available on the WGSS website.
Do you teach or engage in research and if so, can you detail?
My personal and scholarly interests in race and mixed race identities have led me to research society, popular culture and race in the Caribbean.  The Dominican population is said to be 80% racially mixed of European, African and indigenous descent.  I write about the lives of young Dominican women in Santo Domingo. I write about popular culture and identity in the contemporary moment, from film and magazine representations to mixed race bodies to the ways that Dominican youth use visual culture on Facebook, and in theater, to resist stereotypes about who they are. I am interested in the ways they are producing complex identities in transnational spaces, with much influence from cultures and media from abroad. I am also interested in how people make families and why and how race maters to our lives.  I am currently designing a course on transracial and transnational adoption.
For students who might be interested, I will be teaching two classes in Fall 2014:
WOST3395/ANTH3347: Gender, Society & Feminist Theory (Tuesdays & Thursdays 1-2:30pm) and WOST3395/GIS2350/WCL3397: Gender & Transnational Society, (Mondays & Wednesdays 1-2:30pm).
In Spring 2015, I'll be teaching the graduate certificate course in Feminist Theory and Methodology (WOST 6301) again.  And I will teach a course I've called "Brown Girls, Brown Stories" on black female adolescent protagonists in novels and films, which will be cross-listed with African American Studies. It includes several of my favorite novels and films, such as June Jordan's memoir Soldier: A Poet's Childhood, and Danzy Senna's bestseller Caucasia, along with Spike Lee's Crooklyn, and Senegalese filmmaker Ousmane Sembene's 1966 film Black Girl.
If you teach, what is your teaching philosophy?
I regularly teach my students that it is important for them to get out of their comfort zones in order to learn and think in new ways.  I draw on Audre Lorde's wisdom about the power of connecting across difference and I work to create a safe learning environment for all students so that they talk with each other about their differing perspectives. I urge students to make connections between what they are learning in the classroom about gender, race, and class, for example, and their own lives. I also believe in the power of service learning and I have taken students abroad to learn about the world while contributing to host communities through service; those contributions need not only be abroad, however. Over the years, I have been a part of the growth and development of a friend's organization, the Nobis Project, which educates teachers on how to bring participatory learning models into their classrooms and offer students in the US an informed perspective on global citizenship.  I'm committed to providing UH students an education that will help them live better lives--not because they will find higher paying jobs but because they will better recognize injustices in the world and want to work towards change that can improve the society in which we live.
What do you enjoy about your work?
I most enjoy being able to impact the lives of students, for whom experiences of gender, race, and class are highly relevant to their lives. I am able to support UH students from all walks of life be better equipped to get where they want to go in life. Often the students I encounter at UH have never had a role model in higher education or a professor who has been willing to take the time to mentor them.  I have found that the investment of a little bit of my time goes a long way with students at UH.  For many, just making space for them in the classroom to talk about their ideas, and connecting them with the right resources in the Houston community and tools online, has opens up a many doors for them. They start to imagine more possibilities for their futures. 
What are your career goals in the next five years?
I am thrilled to be a part of the WGSS program at this dynamic moment. I am currently working on a book project in transnational feminist cultural studies and several articles for publication. My research focuses on Dominican women's identities and experiences in Santo Domingo. I look forward to sharing some of my writing in one of the WGSS "New Works in Gender Studies" workshops we will be hosting in the coming year. I hope that my position in WGSS will continue to allow me to build bridges between the university community and those who are not yet affiliated with the institution. While at UH, I anticipate continuing to learn about and share with students all of the amazing things happening in the city of Houston—even just campus in the Third Ward.  I enjoy being part of a university community where my ideas and my contributions can inspire students and colleagues
What advice or encouragement would you give UH staff and students?
I believe that to be the best type of learning community we need to take the time to get to know each other. I believe that our diversity is one of our greatest strengths and just as students come away from my classes inspired by what they have learned from having had in depth conversations with their peers, I think that across the UH community we will benefit from further sustained conversations about race, class, gender and sexuality. Our WGSS studies students are hungry to learn about the topics we offer them and appreciate being asked what they think about the world.  I would encourage students and faculty alike to take time out of their busy work weeks to introduce themselves to and talk with colleagues, peers, and mentors and UH folks they have not yet had a chance to get to know. My best advice is to ask thoughtful questions—and listen closely to the answers that you get!
What is something about you than many co-workers and students do not know about you?
I love documentary film and for several years I worked in documentary film distribution at California Newsreel in San Francisco, California. Now I am trying my hand at documentary film production. I'm currently working on a film about maroon culture in the Dominican Republic with friends I made when I arrived in Houston 2 years ago: Rubén Durán (HCC), Donna Pinnick (HCC) and Michael Brims (UH-CL). Our advisor board includes UH professor Carl Lindahl, Dominican folklore scholar Dagoberto Tejeda, and California Newsreel co-director Cornelius Moore.  You can learn more about that project and see amazing photos from our travels in the Dominican Republic at www.loscimarrones.com. You can also follow our progress on Facebook. We'll be screenings of the finished film around Houston and around the country in another year or so.