About and Hours Here to serve you!

Our Mission: 
To advocate, educate, and provide support services for the advancement of gender equity on campus, with an emphasis on student safety, health, and success
Video:
Former WGRC director, Beverly McPhail, describes the services and programs the Women and Gender Resource Center offers. (Thanks to the College of Education interns for making the video).
Our Goals:
To provide a comfortable place where UH students, staff, and faculty can seek information on a variety of topics, obtain confidential referrals to appropriate campus and community resources, and discuss issues of concern;
To educate the University of Houston community on topics that concern women with a special focus on violence against women due to gender, sexual identity, race, or disability;
To identify and research issues that affect University of Houston women;
To serve as a liaison between women on campus and the administration, often by working with the University Commission on Women; and
To celebrate the achievements of University of Houston women by featuring a UH female faculty, staff or student each month on our web site in the "Spotlight" feature.
Our Staff: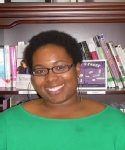 Malkia Hutchinson graduated from Cornell University with a degree in Sociology. She worked for two years in Swaziland as a Peace Corps volunteer. Upon her return to the United States, she took a job in Washington DC at an agency that worked on HIV/AIDS issues as a health educator. Malkia also worked for a time in a battered women's shelter in Texas. Malkia also has experience as an HIV patient navigator at JPS Network Hospital in Fort Worth, TX. She has a long interest and expertise in women's issues, following issues in a variety of social media. She is pleased to return to a college setting and make a difference for young women.
Organizational Structure
Click here to see the Division's organizational chart.