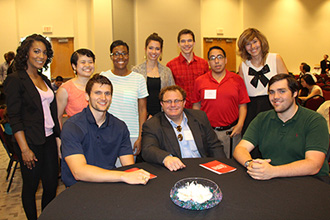 Top Stories
Nicolás Kanellos, University of Houston Brown Foundation Professor of Hispanic Studies and director of Arte Público Press, will receive the prestigious 2014 Enrique Anderson Imbert award from the Academia Norteamericana de la Lengua Española or the North American Academy of the Spanish Language. The award recognizes the lifetime achievement of an individual who has contributed to the knowledge and dissemination of the Spanish language and Hispanic culture in the U.S.
University of Houston Graduate College of Social Work (GCSW) research professor Brené Brown, Ph.D., LMSW, will receive the college's Spirit of Excellence in Social Work Award at the GCSW's upcoming 2014 Biennial Scholarship Gala. A nationally renowned speaker, Brown has spent more than a dozen years studying vulnerability, courage, worthiness and shame.
The University of Houston Sports Performance department's Sports Performance clinic on Saturday, April 26, at UH's Athletics/Alumni Center is rapidly approaching. Led by UH's co-director of sports performance Brian Odom, the clinic will feature five speakers from the sports performance world along with breakfast and lunch as part of the event's registration.
---
Other Stories