Megan Wood and Nebolisa Ebbunike: Subsea Engineering Graduate Program
---
Kyrie Ruiz: Energy Law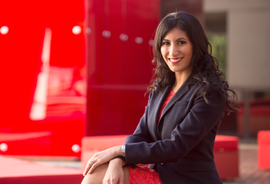 Originally from Harker Heights, Texas, Kyrie Ruiz received her BA in Finance at UH and will graduate in May 2015 with her Juris Doctor degree. She is the Notes and Comments Editor on the Houston Law Review, a member of the Student Bar Association, a 1L Mentor, was a semi-finalist in the Newhouse Mediation Competition, and has interned with Vinson & Elkins for the past two summers. When not occupied with her studies, she enjoys traveling with family and friends and exploring Houston.  
How did UH open doors for you?
I think it has a lot to do with the professors that we have here. Many of them have either worked in the industry or have practiced for so long that they have many connections. Many of my connections for opening doors also came through a program that the Law Center is involved in – LCLD (Leadership Council and Legal Diversity). That really helped, because they pair you with mentors who work in the industry from day one. My first year I was connected to a partner at Vinson and Elkins, and obviously I worked hard so that when I had good grades I could show them to him and he could pass my resumé along internally.
U of H was able to open doors into the energy industry – because it is right in the middle of it. I've got huge law firms at our back door who constantly visit the Law Center, and a lot of them graduated from here. That is a big door opener.
Are there any professors in particular that really stand out for you?
I would say Professor Zachary Bray [assistant law professor of law); I was an RA for him. He is wonderful, very open if I ever have anything I want to talk to him about, and always just willing to listen if there's some issue going on.
How did UH give you an advantage when interning?
Well, it goes back to the classes and a lot of the adjunct classes that I've taken, because they focused on practicing law in the energy industry.  That really helps when I'm trying to understand a client's business because I understand how to think about the legal aspects for their particular business. That's the biggest thing that's given me a leg up in terms of interning and impressing attorneys and clients, the fact that I can understand their business from a legal perspective as well as from the industry perspective.
What are your defining/unique moments at UH? 
In my first semester as a 1L in law school, I participated in a negotiation competition with a fellow classmate, Pierce Cox. We had no real clue about law or negotiation, but we worked hard, had fun and ended up making it to the finals, much to our surprise. We did lose to a team of 3L students in the final round, but in that moment I remembered realizing how much I truly loved the law and that as 1Ls we had a natural ability to negotiate.  That was truly a defining and unique moment for me at UH. In the stress of all of 1L, the experience was a blast and I learned that I had the potential to do very well in the field I was about to enter into.
Kyrie has been offered a job at Vinson & Elkins starting in October 2015 when she graduates.