Social Media Student Alliance
CONCEPT

The University of Houston Social Media Student Alliance is a UH student organization for students who are interested to learn about social media. The group is an especially helpful resource for students who maintain social media sites for UH student organizations, or who hope to have a career in PR, communications, entertainment, or business. All UH students are welcome.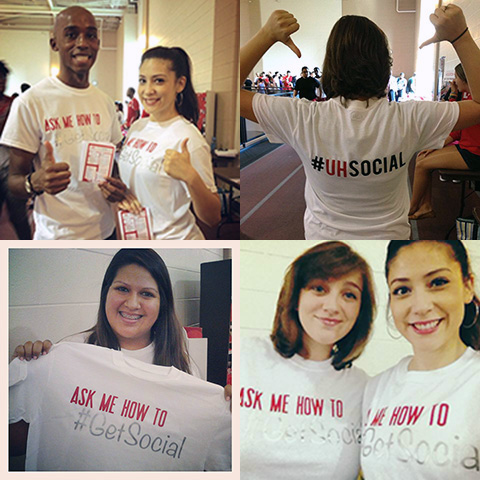 FALL 2013 SEMESTER LEADERSHIP

President: Ameet Jani
Vice President: Theodore McFail
Director of Recruitment: Alexis Cruz
Social Media Director: Joy Fairchild
Director of Events: Lauren Riojas
WHERE TO FIND US

Web: http://uh.edu/UHSMSA
Facebook: http://www.facebook.com/UHSMSA
Twitter: http://twitter.com/UHSMSA
Instagram: http://instagram.com/uhsmsa
WHEN DO WE MEET?

We meet every other Thursday at 6:30pm in the Communications building. Visit our Facebook page for details.
WHAT DO WE DO?

We hold workshops to help students with Linkedin, Twitter, and other social media sites. We also organize events about social media, and share social media news from our various social media accounts.
QUESTIONS?

If you have any questions or comments about this group, please contact Jessica Brand at jbrand@uh.edu.
PAST LEADERSHIP
Spring 2012: President, J.C. Gage; Vice President, Stefanie Crowe