Welcome Wilson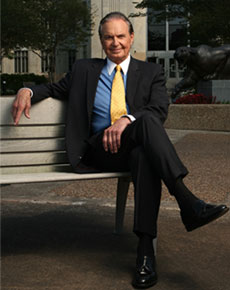 Alum Welcome Wilson Sr. is a Campus Legend
As a young man, you came to the University of Houston, seeking a head start. You took advantage of every opportunity, and created new ones. You helped launch campus traditions, from Frontier Fiesta to the Frontiersmen. You developed the entrepreneurial spirit as general manager of the campus newspaper.
After graduation, you served your country before embarking on a successful career in real estate development. Now, as chairman of the UH System Board of Regents, you are working to take UH to Tier One.Welcome Wilson Sr., you are a campus legend. You Are the Pride.
Read more about Chairman Wilson's journey from UH student to the UH System Board of Regents.