New PPTR Faculty
Bernadette Asias-Dinh, Austin De La Cruz, Katie Smith and Divya Varkey Join Pharmacy Practice and Translational Research Department
UH College of Pharmacy recently welcomed four new faculty members in the Department of Pharmacy Practice and Translational Research.
Bernadette Asias-Dinh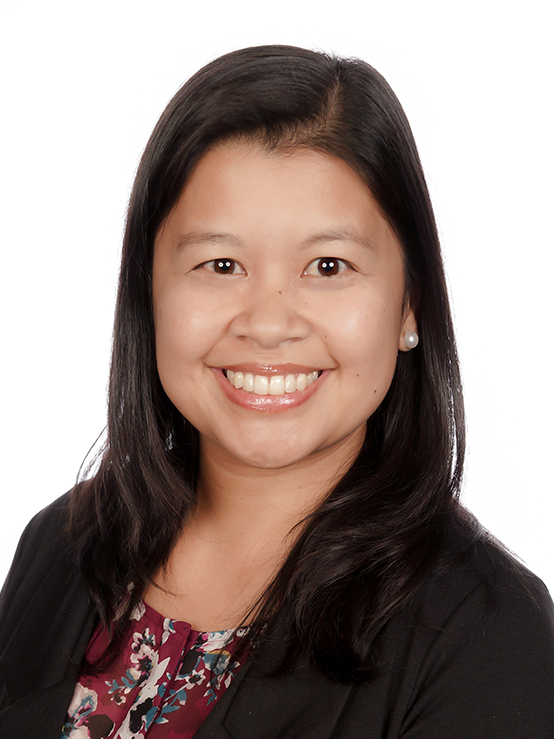 Clinical Assistant Professor Bernadette Asias-Dinh, Pharm.D., BCPS, CDE, a UHCOP alumna, joins the college from Memorial Hermann-Texas Medical Center, where she served as an Ambulatory Care Clinical Specialist in the Medication Therapy and Wellness Clinic. During her four years at the clinic, Asias-Dinh provided disease state management services through collaborative drug therapy agreement in anticoagulation, diabetes, tobacco cessation, and immunizations to patients in the greater Houston area.
Before joining Memorial Hermann, Asias completed a PGY-1 Pharmacy Practice Residency Program with emphasis in Primary Care at the Central Texas Veterans Health Care System in Temple, Texas. Asias-Dinh is a Board Certified Pharmacotherapy Specialist and a Certified Diabetes Educator, and her research interests include diabetes management, chronic disease state management, and preventative care. Asias-Dinh's practice site will be at Vecino Health Center's Denver Harbor Family Clinic, a Federally Qualified Health Center (FQHC) northeast of downtown Houston.
Austin De La Cruz
Clinical Assistant Professor Austin De La Cruz, Pharm.D., received his Pharm.D. degree from Texas Tech University Health Sciences Center School of Pharmacy. He then completed a PGY-1 Ambulatory Care Focused Pharmacy Practice Residency and a PGY-2 Psychiatric Pharmacy Residency at the North Florida/South Georgia Veterans Health System in Gainesville, Fla. 
De La Cruz's clinical practice interests include management of various mental health disorders, including schizophrenia, major depressive disorder, bipolar disorder, and substance abuse. His research interests include evaluating the use of evidence-based therapies for treatment-resistant schizophrenia and major depressive disorder, impact of mental health pharmacists on acute-care psychiatry, management of psychiatric illnesses and symptomatology in the geriatric population, and expanding the role of psychiatric pharmacy services. His practice site is at the Michael E. DeBakey Veterans Affairs Medical Center in Houston's Texas Medical Center.
Katie Smith
Clinical Assistant Professor Katie Smith, Pharm.D., originally from Overland Park, Kansas, received her Pharm.D. degree from Creighton University School of Pharmacy and Health Professions in Omaha, Nebraska. After graduation, Smith completed her PGY1 Pharmacy Practice Residency and PGY2 Ambulatory Care Pharmacy Residency at the Michael E. DeBakey Veterans Affairs Medical Center.
Smith is proficient in Spanish, and her research interests include the impact of pharmacists on chronic disease states in underserved populations, diabetes and cardiovascular disease, and interdisciplinary education. Smith will maintain a practice site at Vecino's Denver Harbor Family Clinic. 
Divya Varkey
Clinical Associate Professor Divya Varkey, Pharm.D., M.S., joins UHCOP with 12 years of health-system pharmacy experience, with the last 10 years in leadership roles. Varkey most recently served as the Director of Pharmacy at CHI St. Luke's Health-Baylor St. Luke's Medical Center in the TMC. Varkey earned her Pharm.D. degree from Purdue University and completed a PGY1/PGY2 Health-System Pharmacy Administration residency from The Ohio State University Medical Center along with an M.S. in Health-System Pharmacy Administration from The Ohio State University.
Her academic, administrative and research interests include achieving operational efficiency and excellence, outcomes related to expansion of clinical pharmacy services, and personnel development and management. Varkey will oversee the continued growth and development of the Houston Program in Pharmacy Leadership and Administration, a two-year M.S./PGY1-PGY2 in Health-System Pharmacy Administration program in collaboration with seven fellow Texas Medical Center institutions. Varkey played an instrumental role in the creation of the Houston Program, which welcomed its first cohort of students in 2009.