Faculty Experts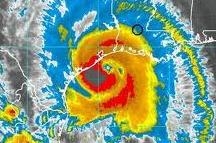 Representing experts across various fields, University of Houston sources have expertise in an array of topics related to storms – before, during and after.
UH Moores Opera Center Announces 2012-13 Season
Masterpieces from Past Four Centuries Showcased on Campus
June 13, 2012-Houston-
For its upcoming performance season, the University of Houston Moores Opera Center will celebrate the works of four legends.
Wolfgang Amadeus Mozart, Giuseppe Verdi, Dmitri Shostokovich and Daniel Catán left their musical marks on four separate eras of opera. Soon, audiences will experience some of their finest works courtesy of UH's talented student and faculty singers.
"Our four operas come from each of the four last centuries. It's a particularly entertaining season with an intriguing mix of traditional works and not-to-be-missed rare novelties," said Buck Ross, director of the Moores Opera Center.
The season kicks off with Catán's "Salsipuedes, A Tale of Love, War and Anchovies" Oct. 26 - 28. The 2004 opera is the third part of UH's "Daniel Catán Project," which is bringing all four of the composer's works to campus. In 2011, Catán worked with the Moores Opera Center on the second production of his final work "Il Postino."
In January 2013, the center begins the new year with a pair of comedies: Mozart's 18th century classic "The Marriage of Figaro" (Jan. 24, 26, 27) and Shostakovich's Soviet-era favorite "Moscow, Cheryomushki" (Jan. 25, 27, 28).
"Kruschev meets Offenbach in a rare Shostakovich musical. 'Moscow, Cheryomushki' was a staple of Soviet television for many years. It brings musical theater verve and energetic tunes to a lively satirical look at life in a new Moscow apartment building," Ross said. "And what's not to like about 'The Marriage of Figaro," which has been called the most perfect opera ever written?"
The season wraps up with Verdi's tragic masterpiece "Rigoletto" April 5, 7 and 8. The classic premiered in 1851 and is rarely performed by universities.
"'Rigoletto' is an unusual opera for a university to tackle, but we just happen to have two baritones in our doctoral program who are ready to sing it," Ross said. "We are jumping at the chance to do it. It won't come this way again, so audiences should take advantage of this opportunity."
All operas are performed in UH's Moores Opera House. Tickets are $20 and $10 for students and seniors. A season pass covering four season operas is available for $60. For additional details on tickets, call the Moores box office at 713-743-3313.
The Moores Opera Center 2012 – 2013 season is as follows:


7:30 p.m., Oct. 26, 27, 29
2 p.m., Oct. 28
"Salsipuedes, a Tale of Love, War and Anchovies" by Daniel Catán
A banana republic declares war on the Nazis and newlywed salsa musicians are caught in the crossfire. Love is put to the test in this bittersweet comedy that sways to the sultry rhythms of the Caribbean. Sung in Spanish with English translations projected above the stage.
7:30 p.m., Jan. 24, 26, 27
"The Marriage of Figaro" by Wolfgang Amadeus Mozart
Figaro is getting married…as long as he can keep his wife out of the hands of his boss. Mozart's timeless comedy is considered by many to be the most perfect opera ever written. Sung in Italian with English translations projected above the stage.
7:30 p.m., Jan. 25, 28
"Moscow, Cheryomushki" by Dmitri Shostakovich
A new housing project called Cherry Town opens in Moscow, and the competition for apartments is fierce and fun. Sung in English with lyrics projected above the stage.
7:30 p.m., April 5, 8
2 p.m., April 7
"Rigoletto" by Giuseppe Verdi
The Borgias would blush at what goes on in the decadent Renaissance court of the Duke of Mantua, where one father's curse and another's vendetta result in a tragic storm of violence. Sung in Italian with English translations projected above the stage.
###
About the University of Houston
The University of Houston is a Carnegie-designated Tier One public research university recognized by The Princeton Review as one of the nation's best colleges for undergraduate education. UH serves the globally competitive Houston and Gulf Coast Region by providing world-class faculty, experiential learning and strategic industry partnerships. Located in the nation's fourth-largest city, UH serves more than 39,500 students in the most ethnically and culturally diverse region in the country. For more information about UH, visit http://www.uh.edu/news-events/.