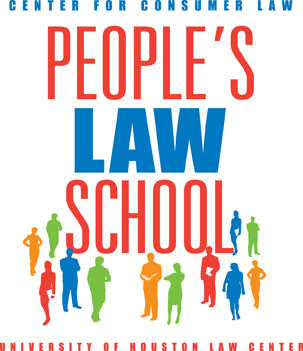 Questions about a will? Having trouble getting your security deposit back? Tired of arguing over faulty repairs? These are some of the legal topics that may be covered in the People's Law School when the popular program hosted by the Center for Consumer Law reconvenes on Oct. 1 at the University of Houston Law Center.
The free program focuses on sharing information with the public about legal rights and the role these rights play in everyday life.  More than 50,000 people have attended classes at the People's Law School, which is taught by volunteer judges, lawyers and law professors. 
Law Center Associate Dean Richard Alderman, "The People's Lawyer" and director of the Center for Consumer Law, will begin the day with opening comments at 9 a.m. in Krost Hall on the UH Law Center campus.
Classes will be held in lecture halls and classrooms throughout the Law Center until noon. Each person may choose three classes to attend. Class topics include business, bankruptcy, employment, insurance, health insurance, consumer law, credit and debt collection, wills, social security, landlord and tenant issues, immigration and family law. Classes also will explore how to use small claims courts, deal with attorneys and reach the law on the Internet.
Registration is required in advance at www.peopleslawyer.net and seating is limited to the first 1,000 people.
---