The Fulbright Program was created to encourage mutual understanding between the United States and other countries.  Today, a University of Houston graduate student and an alum illustrate that mission, earning prestigious Fulbright Scholarships to further their studies.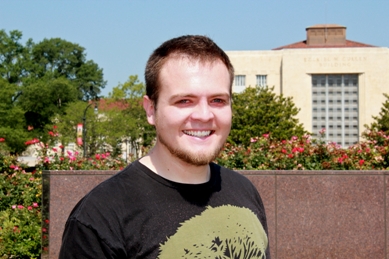 Glenn Trujillo, who hails from the small west Texas town of Dumas, was awarded a Fulbright English Teaching Assistant grant.  He will teach English in Germany.  Donna Huanca, a graduate of the School of Art, was awarded a Fulbright grant to research the Mexican Muralist movement and indigenous textiles to create a contemporary artwork in Mexico City. 
 "I am very proud of Glenn and Donna," said Veronique Tran, Fulbright program adviser and director of the UH Learning through Discovery program.  "Their selection from a nationally competitive applicant pool is a testament to the caliber of training and support that a Tier One university provides to our students.  I have no doubt that they will be fine ambassadors of our university and our country.  I hope that their stories will inspire other UH students and alums to pursue this once-in-a-lifetime opportunity."
The Fulbright program began in 1946.  Sponsored by the Department of State, the award was meant to "enable the government of the United States to increase mutual understanding between the people of the United States and the people of other countries."  The program allows Americans to study or conduct research in more than 155 countries.  Eight thousand grants are awarded each year; 1,600 go to students. 
Trujillo, who studied religion and German philosophy and aspires to be a professor,  will spend 10 months in Germany with middle or high school students (he'll be told when he gets there).  He'll contribute to lessons concerning the English language and American culture.  Additionally, he plans an innovative way to prompt discussion of American culture and art.  He'll engage his students by showing popular American movies.
"I use the example of 'Wall-E,' a Pixar film (about a robot created to clean up a waste-filled Earth)," he said.  "There are obvious environmental themes which are extremely relevant to America because we are coming to terms with a lot of that, but the Germans are extremely focused on the environment."   
He'll also illustrate the American passion for football with the film, "Remember the Titans."
"The movie discusses the cultural phenomenon of American football, which is especially true in Texas, but it also conveys racial tensions that happened mid-20th century in America," he said.   
Donna Huanca is a 2004 graduate of the School of Art.  She will use her Fulbright opportunity to travel to Mexico City to learn more about the Muralist movement and indigenous textiles. Huanca, an artist in her own rite, hopes the experiences will inform her current work, which incorporates fashion and wearable art. 
"This will be my first time working extensively in any Latin American country, so I look forward to the context of my surroundings to influence my work greatly in this stage of my development," she said.  "I look forward to initiating collaborations with a new community of contemporary artists and work with local textile producers to create a new body of work."
This is the first time Huanca will have an opportunity to live and work in Latin America.  She has had installations across the globe and recently was featured in British Vogue.
"My future career goals include teaching and collaborating with fashion designers to create unique wearable art while maintaining an ethical sustainable practice," she said.   
While the Fulbright experience will contribute to the studies of both students and to the communities in which they briefly will live, there is another intangible benefit.
"As you engage in multiple societies, belief systems, grammars and perspectives, you develop a totally different world view," Trujillo said.  "That ability to empathize with another person helps you to lead a very good life and learning to empathize with another culture is something that creates good citizens ultimately."
---