With their bags packed and iPods in hand, the University of Houston men's basketball team departed the UH Athletic/Alumni Center at 7 a.m., Wednesday, March 17, embarking on an NCAA Tournament journey that hasn't been taken by the Cougars in 18 years. 
For UH Head Coach Tom Penders, the trip is more familiar. This is the fourth program he's taken to the Big Dance during his 11 coaching appearances.
"It's the best of all, because it was- and is- considered mission impossible," said Penders, as he boarded the bus to Houston Hobby Airport. "Anytime you are able to prove people wrong, it's fun, and I've always been one that's liked challenges."
The No. 13 seed Cougars face No. 4 seed and 20th-ranked Maryland in Midwest Regional play at 8:40 p.m., Friday, March 19 in Spokane, Wash. The Cougars know they are the underdogs, but that's how they prefer it.
"We like to be the underdog in this," said senior guard and national scoring leader Aubrey Coleman as he waited to board the team airplane charter. "We are loose and happy. We think of this like another game, and that's the only way we are going to win. We can't be uptight."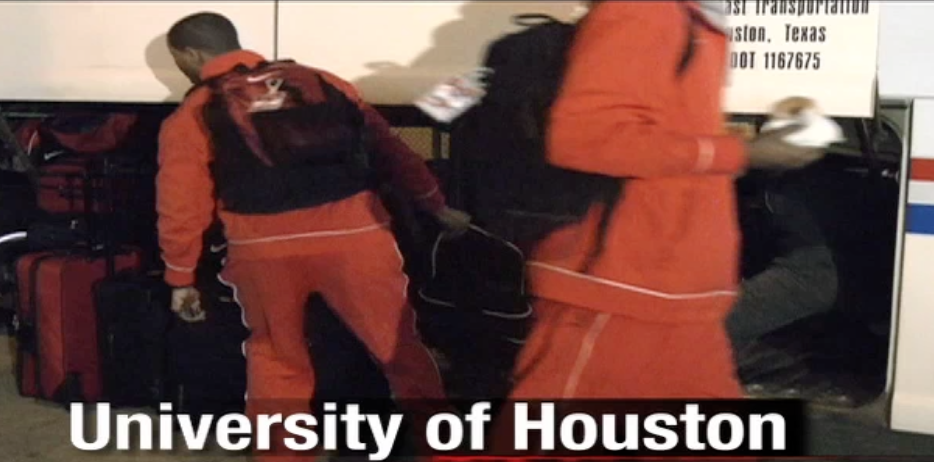 The upbeat spirit of the team was evidenced as they joked and showed off their signature shoulder shrug dance move created by guard Cory Tellis of Friendswood, Texas in the airport waiting area. According to this team, the dance move premiered on the basketball court at Hofheinz Pavilion before it became a trademark move of Kentucky's John Wall.
"It's not the 'John Wall.' It's the 'CT,'" said Desmond Wade of Tellis' moves. 
"This originated last year. People said 'get hyped,'" Tellis said as he broke into dance and was quickly joined by his teammates. But, it doesn't take a dance to get this team hyped. 
"We've got a lot to prove. Everybody thinks Maryland is going to beat us," said Coleman.
"What's going through my mind right now is Maryland," said Wade, a sophomore guard from Linden, N.J. "I am focused on the task at hand. We're going to enjoy it a little bit, but it's business time right now."
The team plans on relaxing and getting plenty of rest in Spokane before a scheduled practice and team dinner Wednesday evening.
---