Faculty Experts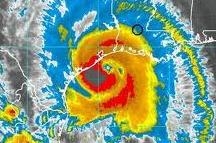 Representing experts across various fields, University of Houston sources have expertise in an array of topics related to storms – before, during and after.
UH Graphic Novel Workshop Sparks Imaginations of Student Artists, Writers
March 12, 2010-Houston-
Once, illustrated storytelling was limited to the comic book tales of superheroes, funny animals or teenage hijinks. During the past 25 years, however, the medium has evolved from fantasy-focused funnies into serious, mature literary works - or graphic novels.
This semester, University of Houston student writers and artists are creating their own graphic novels and learning about the classics of the genre. UH's Graphic Novel Workshop premiered this semester as part of the Cynthia Woods Mitchell for the Arts' Interdisciplinary Art (IART) curriculum.
Leading this new course is author/graphic novelist and creative writing professor Mat Johnson, who provides students with both creative insight and extensive knowledge of the medium's history. He has selected 12 noted graphic novels for students to study for writing style and form. Among the works being discussed in class are popular classics such as "Watchmen" by Alan Moore and "The Dark Knight Returns" by Frank Miller, as well as the Pulitzer Prize-winning "Maus" by Art Spiegelman. Other selected works include "Black Hole" by Charles Burns and "Ghost World" by Daniel Clowes.
Students in the class (four artists, seven writers) also are creating their own works through a nano project and a macro project. The nano project will be a short written project undertaken during the first part of the semester, and the macro project will focus on a 22-page graphic novel story. Projects will be illustrated by both the artists in the class, as well as professional illustrators in Houston and across the country. At the end of the semester, the finished products will on view to the public. A date and location for this exhibition will be determined.
Examples of the works students are developing are: a parody featuring a crime fighter who is advised during a job interview to become a super villain and a story about a dying homicide detective reflecting on her life's decisions. Another project is taking shape as a medieval map that details the pathways of the student's personal life.
"Graphic novels offer a form of visual storytelling similar to film," Johnson said. "At the same time, they offer a lot of things that film doesn't. It can be the vision of only one or two people. It has the intensity of an individual vision."
Johnson authored the graphic novel mini-series "Hellblazer: Papa Midnite" (2005) and "Incognegro" (2007) for Vertigo, an imprint of DC Comics. He also has written two novels "Drop" (2000) and "Hunting in Harlem" (2003). as well as a non-fiction work "The Great Negro Plot" (all for Bloomsbury USA). For more details on Johnson, visit http://www.class.uh.edu/cwp/people_faculty_johnson.html.
"He has the invaluable insight of a professional working daily in the field of mainstream graphic novels," said master of fine arts candidate and workshop student Ted Glossan. "His work in prose fiction also brings a more complex understanding of the narrative to graphic novels, allowing for a perceptual shift of what an illustrated story can and should be in 2010."
The Graphic Novel Workshop is among the courses offered through the Mitchell Center's IART minor. Courses offered in this degree plan focus on building creative bridges between art, music, performance and writing. Students learn from established artists and work on collaborative, interdisciplinary projects. Other IART courses include Collaboration Among the Arts, Arts and Activism and Introduction to Interdisciplinary Arts. For more details, visit http://www.mitchellcenterforarts.org/public/PagAcademic.aspx.  
###
About the Mitchell Center
The Cynthia Woods Mitchell Center for the Arts at the University of Houston cultivates interdisciplinary collaboration in the performing, visual, and literary arts.  From its base at the University of Houston, the center offers public events, residencies, and curriculum that fuse artistic disciplines, ignite dialogue, and open doors to new ways of seeing and understanding the arts and the world around us. The Mitchell Center forms an alliance among five units at the University of Houston: The School of Art, Creative Writing Program, Moores School of Music, School of Theatre and Dance, and Blaffer Gallery, the Art Museum of the University of Houston.   For more information about the Cynthia Woods Mitchell Center for the Arts at the University of Houston, visit www.mitchellcenterforarts.org.
About the University of Houston
The University of Houston, Texas' premier metropolitan research and teaching institution, is home to more than 40 research centers and institutes and sponsors more than 300 partnerships with corporate, civic and governmental entities.  UH, the most diverse research university in the country, stands at the forefront of education, research and service with more than 37,000 students.
For more information about UH, visit the university's Newsroom at www.uh.edu/newsroom.