Meghan Baker, a J.D./M.S.W. dual degree student in the Law Center and Graduate College of Social Work  at the University of Houston, has been named Social Work Student of the Year by the National Association of Social Workers Texas Chapter (NASW/TX).  Baker will be honored Oct. 9 at the organization's annual conference at the Westin Galleria in Houston.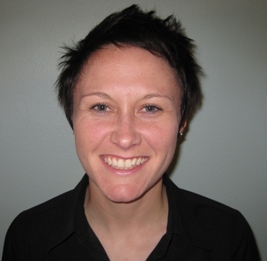 Meghan Baker
The award, established in 1997, honors a graduate or undergraduate student enrolled in a social work program in Texas who has made an outstanding contribution to the goals and mission of the profession. The award recipient must demonstrate leadership; commitment to social justice, the profession of social work and to clients; integration of social work knowledge, skills, attitudes and values; and be a NASW member in good standing.
"Meghan exemplifies what it means to be a social worker, committed to her clients on both an individual and macro-level.  She personifies the core values in the NASW Code of Ethics, with two values in particular standing out. The first is her dedication to service, volunteering and advocating for three distinct service organizations while undertaking a rigorous full-time dual degree and working part time. And second, her commitment to issues of social justice - challenging the discrimination still suffered by GLBT (gay, lesbian, bisexual and transgender) persons as an organizer, advocate, activist and educator. She is building on the profession's rich history to strengthen communities for all people, no matter their station in life, ensuring that they are provided the guarantees of a just society," said Suzanne Pritzker, assistant professor, University of Houston Graduate College of Social Work. 
Baker founded Impact Houston, an organization she started to address issues of equality for the GLBT population, as well as for the rights of marginalized communities. In addition to organizing service events to benefit local non-profits, this organization has organized bi-monthly protests and rallies, many on short notice, as issues relevant to the GLBT community arise. Baker also volunteers with the Houston Area Teen Coalition of Homosexuals (HATCH), a social and support group for GLBT youth in the Houston area, and serves as a volunteer Guardian ad Litem with Child Advocates. She currently serves as the Marvin D. Nathan Fellow at the Anti-Defamation League.
Baker is scheduled to graduate from UH in May 2011.  She graduated from The University of Texas at Austin, Plan II Honors Program, with highest university honors in 2003.  Baker plans to use her degrees and the skills she has developed at UH to advocate for the rights of those who are vulnerable to social injustice.
"Fighting social injustice has always been a central part of my life and of who I am. I do this work because I love it and because I can't image not doing it," she said. "Being recognized by this award is an added bonus, to which I credit my supportive family, as well as faculty mentors at the UH Graduate College of Social Work and others in the community who have made me who I am today." 
For more information about the award, visit http://www.naswtx.org/
About the University of Houston   
The University of Houston is a comprehensive national research institution serving the globally competitive Houston and Gulf Coast Region by providing world-class faculty, experiential learning and strategic industry partnerships. UH serves 37,000 students in the nation's fourth-largest city, located in the most ethnically and culturally diverse region in the country.
For more information about UH visit the university's Newsroom at www.uh.edu/admin/media/newsroom 
# # #
---