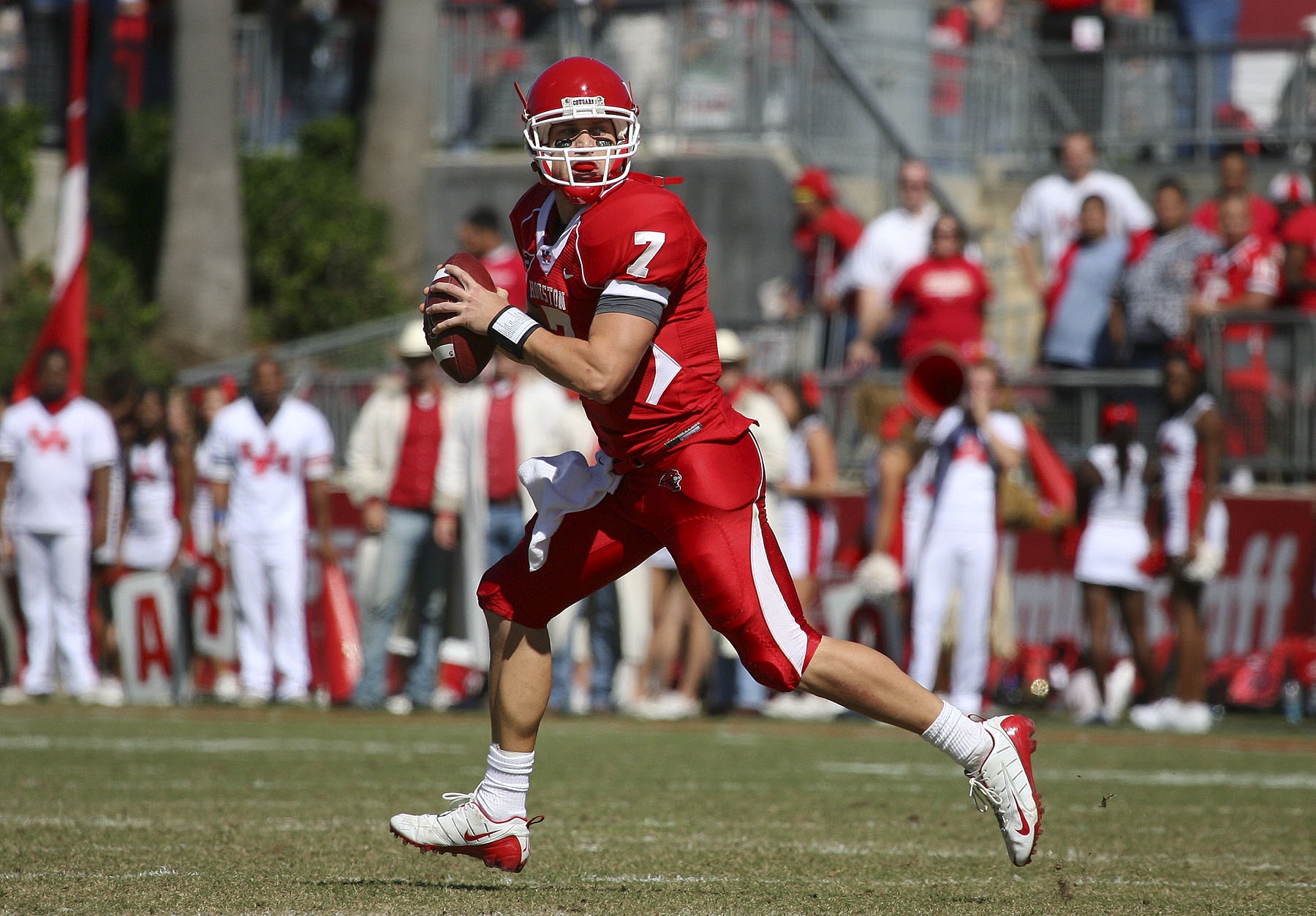 With Saturday's Cougar victory and SMU's loss, your Houston Football team controls its own destiny for a place in the 2009 Conference USA championship game. UH Athletics and Alumni Association are asking fans to support the team as the Cougars look to close out the regular season this weekend, as a win against Rice will have the Cougars playing Dec. 5 for the conference title. Tickets for the Bayou Bucket are still available if you don't have them already.
Tickets for the C-USA Championship game, home or away, will be available through the Houston Athletics Ticket Office within an hour following a victory against Rice.
In addition, your Houston Cougar football team is heading to a bowl game for the fifth consecutive season, a first in school history. The Cougars' bowl destination has yet to be determined, but now is the time to start preparing for another wonderful Houston Football memory.
Once the bowl invitation is extended, the University of Houston Alumni Association and the Houston Athletics Department will join efforts to create opportunities for the fans and alumni to take part in the festivities and the game. Expect possible hotel packages, bus trips, pregame parties and hopefully a win for the Cougars.
For tickets or information to any of these events, go online to UHCougars.com or call the Houston Athletics Ticket Office at 713-GO-COOGS (462-6647).
Currently, there are seven possible bowl game scenarios:

AutoZone Liberty Bowl | January 2, 2010 | Memphis, Tenn.

Bell Helicopter Armed Forces Bowl |December 31, 2009| Fort Worth, Texas

Texas Bowl | December 31, 2009 | Houston, Texas

Eagle Bank Bowl | December 29, 2009 | Washington, D.C.
Sheraton Hawai'i Bowl | December 24, 2009 | Honolulu, Hawaii
R&L Carriers New Orleans Bowl | December 20, 2009 | New Orleans, La.
St. Petersburg Bowl | December 19, 2009 | St. Petersburg, Fla.
Full details will be announced as plans develop. For more information please call 713-GO-COOGS or visit UHCougars.com for the most up-to-date information. 
---