Applying for housing at the University of Houston is easy through - AccessUH myHousing portal.
Take a moment to review the residential community qualifications for each building by visiting the housing options page.
Only students who are admitted to the University of Houston are able to apply.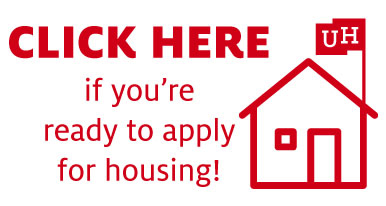 Step 1 - Complete the housing application
Step 2 - Submit $50 application fee and $300 prepayment
Step 3 - Electronically sign the housing agreement
Step 4 - Find a roommate via RoomSync
Step 5 - Select a space to live on campus
For more information about housing options or to get assistance with the application process, contact Student Housing & Residential Life at housing@uh.edu or 713-743-6000.