Do it! It works.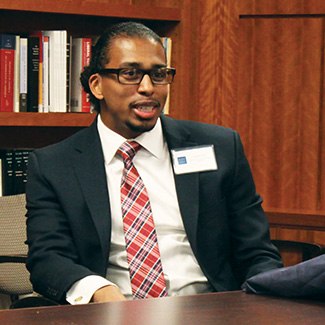 Honors College alum, Joshua Ellis, is beginning his emergency medicine residency at the Mayo Clinic, Rochester, MN. Ellis, a native of San Antonio, received his bachelor's degree in history at UH, with a minor in Medicine & Society in 2012, and his doctorate of medicine from Howard University, Washington, D.C. in 2016. Learn more about him in his own words:
What changed your career focus from history to medicine? 
I began school as a premed student and biology major with the intent to go to medical school. Medicine attracted me primarily for its image as a noble and humanitarian profession. It was actually many of the Honors College classes that attracted me to being a history major. 
After all, the study of medicine is the study of the history of medicine, at least on an undergraduate level, that is. I think the Medicine & Society program definitely made it possible for me to accomplish both the premed and history major, and I loved it. It gave me an excellent, well-rounded application and a pretty unique knowledge base for my career as a doctor. 
Do you have specific plans after your residency at the Mayo Clinic? 
After residency I would potentially do a fellowship or immediately start working as an attending physician. 
What would be your dream job? 
My dream job would be an academic emergency care position, basically, a teaching doctor. I love to teach, so something along the lines of a program director or medical student clerkship director at a major academic hospital would be amazing! 
Do you have a favorite memory from your time in the Honors College? 
Aahhh so much to choose from! At the Honors retreat, I emceed the follies my senior year. It was just such a great and funny experience! So many people helped, and it was pretty much four years of humor, personality, and relationships all put on display in our last hoorah.
How did the Honors College experience prepare you for your future? 
It gave me a great, well-rounded education. My writing skills were better; my communication skills were better; and most importantly, my interest in education was better. I learned to enjoy and appreciate research papers. Looking back, there was just so much that I learned that couldn't have been taught in your basic science class at a major university. 
What would you say to someone considering applying to the Honors College? 
Do it! It works. The Honors College drastically enhances your college experience. It is an invaluable experience and also a very unique one. If you're premed, then it's almost a no brainer, thanks to the Medicine & Society program. You surround yourself with like-minded, motivated students with similar goals and faculty and staff with the resources to help you reach them.