The Honors College Faculty : Susan D. Collins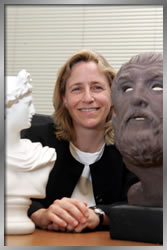 Contact
Phone: 713.743.3900
Email: suecoll724@uh.edu
Susan Collins is a political theorist holding a joint appointment in Political Science and the Honors College. Her background is in the history of political thought, and her research focuses on classical thought. Among the main themes of her work are the intersection of ethics and politics in Ancient thought, contemporary efforts to use Aristotle's thought in resolving the problems of liberalism, and the classical understanding of political order.
Professor Collins teaches courses in the history of political thought as well as the team-taught gateway course for Honors students. In 2005, she was awarded the University of Houston Provost Core Teaching Excellence Award. In 2008, she helped to found Phronesis: A Program in Politics and Ethics, an interdisciplinary minor housed in the Honors College. She is the current Director of Phronesis.
Collins has recently published a new translation of Aristotle's Nicomachean Ethics, with Robert Bartlett (University of Chicago, 2011), with notes, glossary, and interpretive essay. Other publications include Aristotle and the Rediscovery of Citizenship (Cambridge 2006), "Moral Virtue and the Limits of the Political Community in Aristotle's Nicomachean Ethics," in the American Journal of Political Science (January 2004), Action and Contemplation: Studies in the Moral and Political Thought of Aristotle (SUNY 1999), Empire and the Ends of Politics: Plato's Menexenus and Pericles' Funeral Oration (Focus Philosophical Library, 1999), and "The Challenge of Plato's Menexenus" in Review of Politics (January 1999).
See the New York Times' review of the Bartlett/Collins translation as well as a recent interview with Collins in the Houston Chronicle, and a faculty profile for the Honors College.