Cougar Red Friday
Cougar Red Friday is part of our ongoing Keep Houston Red initiative at the University of Houston. We encourage our campus community and those all around the city of Houston to wear Cougar Red on Fridays and show support for Houston's top-tier University. Click here for Keep Houston Red computer wallpaper and click here for Keep Houston Red social media graphics to show your Cougar pride year-round.
Here at UH, wearing Red on Friday is more than just a tradition; it is who we are. We wear Red to show our pride and passion for the University. It is our visual identity. The color unites us to live and to celebrate together, and behold our individual achievements as a singular legacy of pride.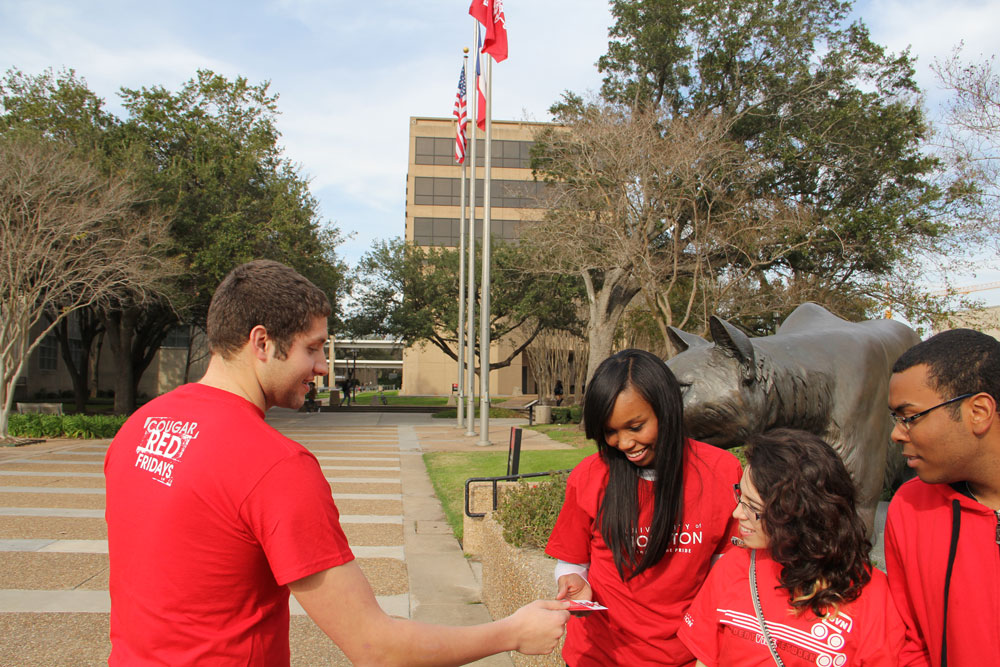 Visit the UH Facebook, Twitter, and Instagram on Fridays to see your fellow Coogs dressed in Cougar Red. Contact the UH Social Media team at smgroup@uh.edu or the Cougar Red Friday team at khr@uh.edu with any questions!
Visit Keep Houston Red to check out some of our other programs, like Crank it up Coogs.
Join our Red Initiatives
Share photos of yourself dressed in Cougar Red on Fridays! Use the hashtag #CougarRedFriday, follow us on Twitter at UHouston, and like us on Facebook to hear about ways to win UH T-shirts and other fun prizes. Stay tuned for updates regarding Spring 2014 Cougar Red Friday contests and initiatives.
Campus Wide Initiatives
$5 Red Fridays
UH Dining Services sponsors $5 Red Fridays for Faculty and Staff wearing Cougar Red shirts every Friday during the fall, spring and summer semesters. The discount is valid from 11 a.m. to 3 p.m. at the Fresh Food Company in Moody Towers and the Real Food on Campus in Cougar Woods. Faculty and staff must be wearing a red shirt and be able to show their UH ID in order to receive the discount. One discount is allowed per valid ID.
Red Rewards on Cougar Red Fridays
Every Friday during the fall semester, the Red Rewards team will roam campus to hand out free T-shirts, stickers, and various prizes to those who show their pride and wear Cougar Red on Fridays. So be on the lookout for the Red Rewards team roaming campus this Friday, typically between the hours of 11 a.m. - 1 p.m.
#GoCoogs!
Learn the words to the UH Fight Song by watching this video.