Cougar Red Friday
Cougar Red Friday is part of our ongoing Keep Houston Red initiative at the University of Houston. We encourage our campus community and those all around the city of Houston to wear Red on Fridays and show support for Houston's top-tier University.
Click here
for Keep Houston Red computer wallpaper to show your Cougar pride year-round.
Here at UH, wearing Red on Friday is more than just a tradition; it is who we are. We wear Red to show our pride and passion for the University. It is our visual identity. The color unites us to live and to celebrate together, and behold our individual achievements as a singular legacy of pride.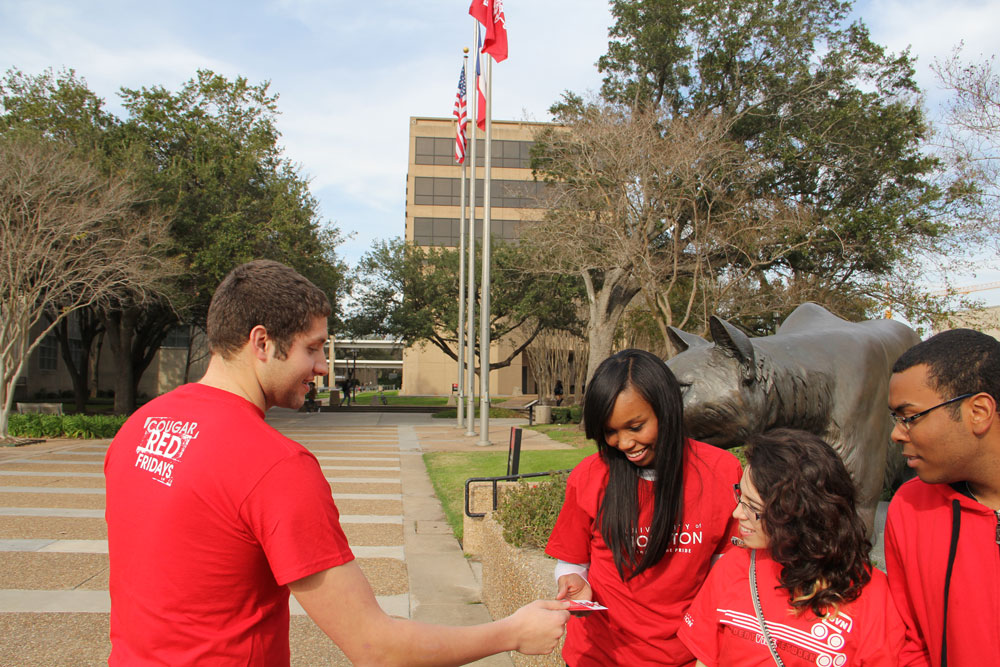 If you would like your own copy of our weekly Cougar Red Friday photo collage, please contact
crf@uh.edu
and we will be happy to provide you with one.
Click Here
to find locations to purchase UH gear, so that you can be completely prepared for Cougar Red Friday at UH and a chance to be featured in our weeky photo collage.
Every Friday is now declared Cougar Red Friday at the University of Houston. Be sure to have your Cougar Red on this Friday! Check out other Red Initiatives on campus such as
TOSS
, our t-shirt trade up campaign and
Crank it up Coogs
.
Join our Red Initiatives
Tag tweets with
#UHRedFriday
and follow us on Twitter at
UH_Cougars
. Like us on
Facebook
to receive Cougar Red Friday contest updates. Stay tuned for updates regarding Spring 2012 Cougar Red Friday contests and initiatives.
Campus Wide Initiatives
Frontier Fiesta & Cougar Red Friday
This year, Friday at Frontier Fiesta will be themed Cougar Red Friday. Wear red on Friday at Frontier Fiesta and stop by any of the Cougar Red Friday booths to join the conversation and tell us why you wear red. If you plan to participate in the
Beard Growing Contest
, come dye your beard Cougar red after the competition to show your Cougar pride!
Red Rewards
Every Friday during the spring semester, we will be handing out Red Rewards to those who show their pride and wear Cougar red on Fridays. We will be handing out different UH prizes to people wearing red, so be on the lookout for the Red Rewards team roaming campus this Friday from 11 a.m. - 1 p.m.
Five Dollar Fridays
UH Dining Services sponsors $5 Red Fridays for Faculty and Staff wearing Cougar Red shirts every Friday during the fall and spring semesters. The discount is valid during lunch at the Fresh Food Company only until the new dining hall on the corner of Wheeler and Cullen is completed. Faculty and staff must be wearing a red shirt and be able to show their UH ID in order to receive the discount. Visit
www.uh.edu/dining
or
www.facebook.com/uhdining
to learn more.
Cougar Cents
Another way to keep our campus red is by picking up a red piggy bank. Gifts collected will help current UH students through scholarships, library resources or student success programs. Will your class give the most this year? One or two Fridays this semester we will feature Cougar Cents during the I-Spy-Shasta contest. You can find Shasta on campus and win various Cougar Cents prizes.
Click here
to find more information on Cougar Cents.
Learn the words to the UH Fight Song by watching this video.
College and department Initiatives
Colleges and Departments across the UH campus are welcome to start their own Cougar Red Friday initiatives. For more information on how to start a contest within your college or department please contact
crf@uh.edu
.
To find out if your College or Department is hosting a Cougar Red Friday contest you may contact one of the following representatives:
College of Architecture: Alaina Schuster
Bauer College of Business: Jessica Navarro
College of Education: Sophia Flot-Warner
Cullen College of Engineering: Esmeralda Gomez
Honors College: Libby Ingrasia
Hilton College of Hotel & Restaurant Management: Wendy Ballard
UH Law Center: Carrie Criado
College of Liberal Arts & Social Sciences: Shannon Buggs
College of Natural Sciences & Mathematics: Kathy Major
College of Optometry: David Gee
College of Pharmacy: Chip Lambert
Graduate College of Social Work: Connease Warren
College of Technology: Marilyn Jones or Lisa Burns
Please email crf@uh.edu if you have any questions about Cougar Red Friday.]