UH Initiative Gets Students Out of Class, Into the Community
By Lisa Merkl and Laura Tolley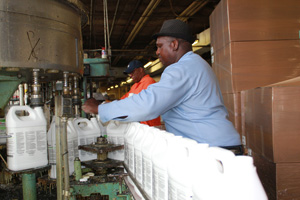 When the Lighthouse of Houston, a nonprofit agency that serves the blind and visually impaired, needed help in its industrial division, the University of Houston stepped up to the challenge. The division, which produces cleaning products for government contracts, wanted to expand its business base, but it first needed to develop a quality management system that would be certified by an outside auditor. The quality management stars aligned for the Lighthouse thanks to UH's "Learning Through Discovery Initiative," a program that seeks to transform students' learning experiences by getting them out of the classroom and into the community – for everyone's benefit. In the Lighthouse's case, the agency couldn't afford to hire an expensive consultant to create a quality management system.
Turns out, UH had just the expertise the agency needed in Jami Kovach, an assistant professor in the College of Technology who recently received a national award for her contributions to quality management. A skilled problem-solver, Kovach devised an action plan and found the right student to carry it out. Gina Whitley, who enrolled in the College of Technology last fall, worked side-by-side with Lighthouse employees during the spring semester to help the agency develop a system that would be certified by an outside auditor. Whitley worked 19 hours a week at the Lighthouse, doing everything from in-depth interviews of employees to charting exactly how each operation is performed in the manufacturing process.
Additionally, Kovach and Jerry Pkya, the college's assistant dean for outreach, provided valuable input as the project progressed and conducted a crucial "mock audit" of the agency. "The success of this project was definitely a close-knit connection between Dr. Kovach's and Dr. Pyka's influence and direction, the 'ready-to-help' attitudes of the staff of both the management and all the Lighthouse employees and the on-site work I did to help put it together between UH and the Lighthouse," Whitley said.
The effort paid off. The Lighthouse recently passed its audit and is awaiting delivery of the official certification, which will be proudly mounted on the wall at its offices on W. Dallas."This certifies them to a higher standard," Whitley said. "They already had high quality in their operations. This just proves it – and that counts with customers and potential customers. "Lighthouse officials said UH played a vital role in getting the certification. "Without all of UH's support and guidance, we wouldn't have achieved this certification," said Gibson DuTerroil, Lighthouse's president. "The school can be so proud of the kind of students and faculty who are there."
Whitley wasn't the only student to get involved in the community this past semester through the UH initiative's help. Several students with the Jack J. Valenti School of Communication assisted Legacy Community Health Services, whose mission is to empower clients who traditionally face problems with accessing quality health care. Legacy needed help in communicating with its diverse clientele, and UH students in Jennifer Vardeman-Winter's rhetoric and issues management classes responded by developing various communications plans for the agency. They went beyond what the assignments called for by venturing into the community served by Legacy to get direct feedback rather than just reviewing transcripts provided to them for the projects.
One student who is especially thankful for the experience is graduating senior Amanda Jolivet, who says the project already has opened doors for her with job interviews."It was a great opportunity for some hands-on experience and I also got the chance to help a legitimate organization. It also taught us how to apply good work ethics and apply class concepts," Jolivet said. "Because they were a real client, we pushed ourselves harder. It helped us fine-tune our presenting skills. We wanted to put our best foot forward because the client's and UH's reputations were on the line.""The professors and Legacy treated us as if we were paid professionals and not just students. They gave us respect. We were able to show them what UH students are capable of. This is one of the best things I've done while at UH," Jolivet said. "It challenged me with new ideas and helped me refine my speaking and presentation skills."
Amy Roland, director of health promotions at Legacy, said the agency will be using some of the students' recommendations."We were very impressed by the students for their creativity and useful feedback. They really took things a step further," Roland said. "It was a win-win situation, with us being able to provide them with real-life experiences to work for an actual organization and for us to benefit from another pair of eyes with a fresh perspective."That's the UH community initiative at its best. "One of our goals is to have students use their skills in non-traditional ways and encourage them to think creatively in this market. In watching them present their final projects, we could see they really took these assignments to heart, investing themselves and offering tangible guidance to the client." said Alison Leland-McKinney, a lecturer in the UH Honors College who is on the taskforce working to bring research opportunities such as this into the community.