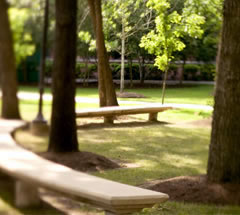 Growing Gifts
Thanks to seeds of support, the University of Houston campus is blossoming as a beautiful place to learn.
Visitors arriving on University Drive will notice young oaks that are destined to mature into a dazzling wooded canopy leading to the campus. This Avenue of Oaks is made possible by sponsors, who are leaving a lasting legacy to the campus.
Another stunning cascade of green is developing here to greet visitors arriving to campus on Cullen Boulevard. Thanks again to university supporters; the Avenue of Trees boasts foliage along both sides of the street.
Joining these trees on Cullen is a colorful azalea garden named for legendary Cougar hoops coach Guy V. Lewis and his wife, Dena. The 3,816 square-foot Dena and Guy Lewis Azalea Trail and Garden perfectly decorates the area near the Moores School of Music. Its glorious exhibition of 1,075 azaleas in 12 different varieties was made possible by a gift from the River Oaks Garden Club.
Soon to complement these beautification efforts is the Margaret Sharpe Antique Rose Garden, which will be a block south of the azalea trail. There's little doubt this ambitious project will add even more color to the campus.
All of these projects were brought to life by the UH Entrances and Perimeters Committee, which is leading campus beautification efforts.
To learn about sponsorship opportunities for any of these or other beautification projects, visit http://www.uh.edu/giving/opportunities/special-projects/ .