Constructing Future Cougars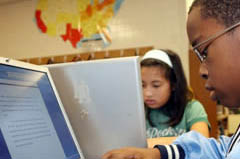 Future Cougars already are receiving an innovative education at the University of Houston. The UH Charter School (UHCS) teaches children in kindergarten through the fifth grade using a constructivist approach to learning.
"Charter schools were instituted to increase innovation in public education," says Carolyn Black, principal of the UHCS. "Our school was one of the original 19 first-generation charter schools in the state."
The UH Charter School follows an educational philosophy that encourages children to construct their own knowledge by solving problems that are of interest to them. This "constructivist" approach focuses on the development of reasoning in every aspect of a child's day.
In 1996, UH was awarded the first university charter to establish a public school. Today, it serves nearly 130 students.
"We believe in the power of a community of learners. Coming to school each day is to be empowering for each community member," Black says.
Go online for more information on the UH Charter School.