Capitol Cougars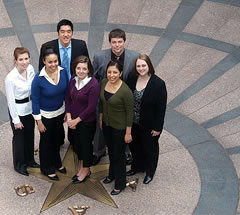 They're not elected officials, but during each legislative session, students from the UH Graduate College of Social Work (GCSW) head to the state capitol.
As part of GCSW's Legislative Internship Program, selected students are assigned to the offices of different state representatives and senators for one semester. Among their work assignments are researching policy issues, meeting with lobbyists and constituents and working closely with lawmakers.
The experience not only educates students but serves as a stepping stone for careers in politics.
"Following these internships, the vast majority of GCSW students are hired into significant state and national legislative positions," says Ira Colby, dean of GCSW. "Alumni of this internship program have served as chiefs of staff of state committees, legislative directors in representatives' offices, as well as governmental relations staff for a variety of interest groups and organizations."
Go online to learn more about the Graduate College of Social Work.