Downtown Diamond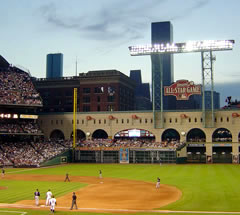 It's known affectionately as "The Juice Box," but baseball fans recognize Minute Maid Park as home turf for Major League Baseball's Houston Astros. 
Houston's a baseball town, and fans from far and wide flock to see the Astros in action at Minute Maid Park.
Located just minutes away from the University of Houston, the state-of-the-art ballpark offers a casual, cozy game watching experience.
Rain or shine, the action is never delayed thanks to a retractable roof and fans always have a view of the city's skyline through the park's massive sliding glass window.
Houstonians cheered when the park opened its doors in 2000. Four years later, baseball fans from around the world also showed their appreciation as it hosted the 75th Annual All-Star Game, the first time the event was played in a Wi-Fi compatible stadium.
The Astros aren't the only Houston team to claim the park as home field. At the beginning of each college baseball season, UH's Cougars are one of the many teams participating in the annual Houston College Classic.
Minute Maid Park also is a great place to catch concerts. Rockers such as Audioslave have shaken the seats there and Jimmy Buffet transformed the "Juice Box" into "Margaritaville."
Go online for more information on Minute Maid Park.