Cougars in Space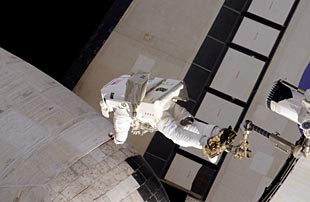 Just within the last year, two University of Houston Cullen College of Engineering alumni have journeyed into outer space on Atlantis missions to the International Space Station.
Last June, John "Danny" Olivas (1993 MSME), made his first flight into outer space on the Atlantis (STS-117) mission to the space station. Olivas participated on two of the mission's three space walks to install a couple of truss segments on the station as part of its solar power system. He also performed an extravehicular "sewing job" to secure a hole in the thermal blanket on one of Atlantis' aft engine pods.
Interestingly enough, the expansion of the station's solar power system last June was necessary in order to provide sufficient power for the operation of various modules, one of which was installed by fellow alumnus Rex Walheim (1989 MSIE) and crewmates in February.
Walheim traveled to the space station as a member of the Atlantis (STS-122) flight whose primary mission was to deliver and install a European laboratory module. He participated on all three spacewalks to install the module, known as Columbus, marking the 100th completed spacewalk by NASA crews to assemble the space station. The STS-122 mission was Walheim's second flight into space—he was a member of the STS-110 mission to the space station in 2002.