Masterfully Planned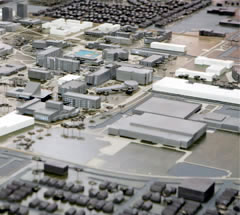 With a master plan guiding the campus' growth, big changes are under way at UH.
This plan, developed by UH administrators and the design firm Cooper, Robertson and Partners, enables the university to expand its resources for both its students and the community. Among the enhanced amenities provided in the plan are new research facilities, more residence halls and new parking areas.
The plan also creates four unique areas of campus.
The Arts District will offer amenities such as an amphitheatre, sculpture garden and high-ceiling lofts. Graduate students and families will find new residence halls and academic facilities in the Professional District. The Stadium District will redefine football on campus with a vibrant plaza perfect for pre-game socializing and access to proposed rail and bus lines. And in preparation for increased enrollment, the Undergraduate District will host new apartments in perfect proximity to campus.
"We're excited about the campus master plan, which focuses on open space, landscaping, transportation and circulation, and provides us with a map to developing a first-class, 21st-century university," says Dave Irvin, associate vice president for facilities and plant operations.
For more details on the master plan, visit www.uh.edu/about/initiatives/masterplan/.