Magnificent Mascots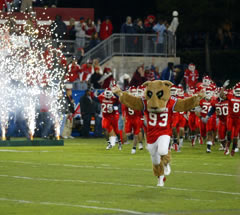 As UH's premier "supercouple," Shasta and Sasha define Cougar pride at every event they attend.
They're probably the cutest couple on campus, and they're inseparable at all University of Houston events.
UH mascots Shasta and Sasha have enjoyed an enduring relationship thanks to their immense popularity with audiences young and old.
These costumed Cougars are omnipresent fixtures at sporting contests, pep rallies and other spirit-driven events. Although their antics amuse audiences of all ages, their cougar personae represents UH's grace, power and pride.
The cougar was selected as the perfect symbol for the university in 1927, and in 1947, student Joe Randol came up with a name, "Shasta." That was the same year that a live cougar was brought to live on campus!
From 1947 to 1989, Shasta existed as an actual cougar. Five live Shastas maintained a presence on campus. In 1990, Shasta was reborn as a costumed mascot was joined by a female colleague, Sasha.
Since then, they've become fan favorites on campus and a symbol of the university's proud presence in the community.