Center of Attention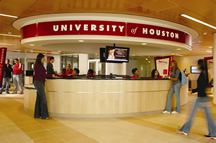 When students arrive at the University of Houston, they can find instant campus information, easy access to enrollment services, and plenty of parking, all in one location.
The Welcome Center is the perfect point of entry for students and visitors. The facility combines a four-story, 1,500-car parking garage with Enrollment Services offices and a visitors' center.
New, current or prospective students can park in the garage and immediately stroll to the first-floor for access to the registrar, freshman and transfer admissions, financial aid, financial services and academic advising offices.
To learn more about the university, students and visitors need only walk a few more feet to the adjoining visitors' center. Here, they can receive campus maps, talk to UH representatives or access information using computer kiosks.
For more information about the Welcome Center, visit http://www.uh.edu/welcomecenter/.