Sociology Graduate Spotlight
Trenton Haltom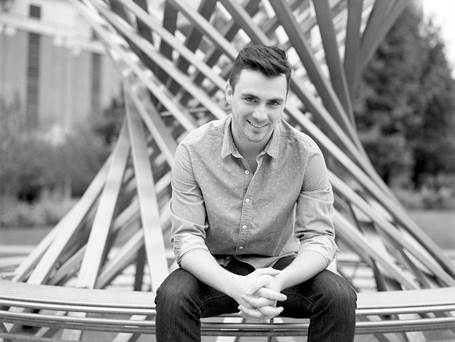 Graduation Date: May 2015
Track: Thesis
Graduate Committee: Amanda Baumle (Chair), Samantha Kwan, Guillermo de los Reyes
Where to find him:
Website: tmhaltom.com
Twitter: @TMHaltom

What was your thesis topic?
I interviewed male baton twirlers around the country about their experiences with privilege and disadvantage being men in a feminized sport. Interviews also consisted of discussions about the embodiment of gender in this feminized space, how the twirlers experienced and negotiated stigma, and also how they defined masculinity given their involvement in a sport "for girls." Currently, I have a book chapter under review about how these men embody gender, and am working on two other pieces – one regarding their social identity management techniques as a result of stigma, and the other about how they are tokenized (i.e. experiences with privilege and disadvantage). Sometime in the future, my goal is to publish a book on the topic!
Where are you now?
I'm a second year doctoral student at the University of Nebraska-Lincoln. For my dissertation, I'm interested in how gender and sexuality map onto sociology of the body. In particular, I use eye-tracking technology and interviews to get at how men look at other men. Do they objectify each other? Are they sexualizing each other? Do they feel like they don't measure up to a certain bodily standard? In an experimental setting, heterosexual and non-heterosexual men will view images of other men during which time their eye movements will be recorded. After the eye-tracking portion, they will be interviewed about how they thought they looked at the images, their thoughts (or lack thereof) on other men's bodies, whether they feel like they "measure up" to idealized standards of men's bodies, and how any of these topics affects their perceptions of masculinity. At the very least, I anticipate this work contributing to discussions of homophobia, multiple masculinities, and body image issues among men.
What first attracted you to our program?
The faculty mentorship opportunities, funding opportunities, and of course the city itself was really exciting.
Skills Taken From the Program:
Qualitative and statistical training which is really unique for a terminal Master's program. Among similar programs, it stands out because of the coursework that is offered.
The proseminar was also great because it allowed those who were new to sociology to acclimate, those who were on the internship track to think about their trajectory, and those of us who were familiar with sociology to find our place within the discipline.
Even though it's a terminal Master's program, they treat you like junior colleagues. The UH sociology department is a professional environment that allows for the growth of young scholars and applied sociologists. In that way, the faculty at UH are mentors not only while students are enrolled, but even after graduation.
Major Areas of Interest:
Men & Masculinities
Sexualities
Sociology of the Body
Work & Occupations
Sociology of Sport
---
Angela Leal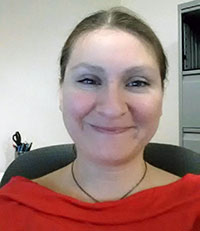 Angela Leal earned her M.A. in sociology in spring 2013. Her M.A. thesis, "Leaving So Soon? Why Hispanic Mothers Start Breastfeeding Only to Abandon the Practice in the First Six Months" examines the social circumstances shaping Hispanic women's infant feeding decisions. Her thesis committee members include Samantha Kwan (Sociology), Tatcho Mindiola (Sociology), Jennifer Augustine (Sociology), and Elizabeth Gregory (Women's, Gender, and Sexuality Studies).
National health statistics show that, although Hispanic women initiate breastfeeding at rates higher than the national average, there is a steeper drop in breastfeeding rates during the first six months of a child's life for this population (compared to other racial/ethnic groups). Angela's analysis of interviews with eighteen Hispanic mothers found that emotional and practical support work to override the breastfeeding obstacles mothers face. Mothers with emotional support from at least one key individual in their life, backed by practical support in taking care of household or other responsibilities, allowed women to meet their breastfeeding goals. Furthermore, Angela's research found that dual cultural adaptation plays a complex role in breastfeeding. While adapting to a more modern American lifestyle, including two working parents, may decrease breastfeeding duration, maintaining a traditionally gendered family structure may decrease it as well. Angela's research thus points to the importance of implementing policies that increase partner support to facilitate breastfeeding in this population.
Angela is currently a conflict of interest analyst at the M.D. Anderson Cancer Center. In her position, Angela uses the analytical, critical thinking, research, and writing skills that she developed in the M.A. Sociology program to analyze faculty members' contracts with outside companies to ensure compliance with federal, University of Texas System, and M.D. Anderson policies. She prepares memos for the Conflict of Interest Committee to review and when an outside relationship reaches a certain financial threshold, Angela assists in the preparation of documentation for further review.