Contact Us
Department of Psychology
The University of Houston
126 Heyne Building
Houston, TX 77204-5022
(713) 743-8500
Related Links
Computer Support
Keep in touch! 
News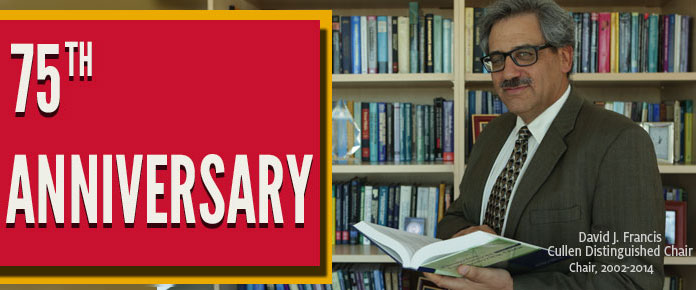 UH Department of Psychology Milestones:
1930s — Department of Psychology was created in the College of Social Sciences
1937 — First B.S. Degree awarded
1939 — Department chartered
1942 — First Master of Arts Degree awarded
1952 — Personnel Psychology Services Center & Interviewing Institute founded by John MacNaughton and Testing Institute founded by Ron Wilson, both of the I/O program.
1953 — First Ph.D. awarded
1953 — Dr. Richard I. Evans taught KUHT-TV's first credit course on Channel 8- Psychology 231
1959 — Clinical Psychology Program accredited by the APA
1972 — UH Administration committed 10 new faculty positions to the Psychology Department development to be filled over a five year period.
1983 — Rated Most Improved Psychology Department by the National Research Council
1986 — Psychology Research and Services Center (PRSC) founded
1989 — Moved from SR1 to Heyne Building
1990 — I/O faculty placed second in research publications during the 80s in the most prestigious journal in the field, according to The Industrial-Organizational Psychologist (TIP).
2008 — Ranked #3 among 418 universities for Federally-Financed R&D Expenditures by the National Science Foundation
2008 —  The Psychology degree programs were ranked 7th in the nation for producing minority graduates by Diverse: Issues in Higher Education.