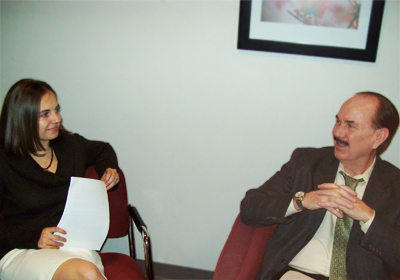 Families in Transition
The Center for Forensic Psychology is currently researching coping and adjustment of families in transition caused by divorce. This study will provide a community service as families will be given the opportunity to receive feedback on their family's perceptions and feelings about the divorce. In addition, families will be given information to assist them in their transition and recommendations for finding interventions designed for their family's specific needs. The CFP is working with members of the community to examine forms of assessment that best identify families at risk for adjustment problems during the transition of divorce and facilitate the creation of effective interventions for such families.
Assessing Malingering Measures among Personal Injury Litigants via a Motor Vehicle Accident Manipulation
Psychologists are frequently utilized as expert examiners and witnesses in order to assists in determining the cause, range, and severity of alleged damages in personal injury lawsuits. Malingering or exaggerated responding among personal injury litigants has been estimated to be as high as 29 to 40 percent (Larrabee, 2007; Mittenberg, Patton, Canyock & Condit, 2002). Previous research on malingering measures, and malingering in this population contains limitations that compromise generalizability. The Center for Forensic Psychology is conducting a study to assess the performance of two commonly used forensic measures: the Trauma Symptom Inventory and the Miller Forensic Assessment of Symptoms Test in detecting malingered or exaggerated responding in this population. Additionally, the impact of the litigation setting and suggestion to malinger will be explored.
The Effects of Childhood Trauma in Litigation
The CFP is currently researching ways in which traumatic experiences that occurred prior to a disruptive life experience (i.e. motor vehicle accident) may affect an individual in litigation. Research has suggested that trauma experienced in childhood has a negative lasting effect on adjustment later in life. One particular point of interest in this area is in the concept of the "Eggshell Plaintiff" in the context of civil litigation. If an individual has prior trauma before having a disruptive life experience for which they sue or enter civil litigation, it is plausible that the prior trauma will have an effect on their current well being.; It is likely that these individuals are more vulnerable than people without a history of trauma and thus, will experience more negative effects from later life disruptive experience.
Juvenile Sex-Offender Assessment
Given the importance of identifying and rehabilitating at-risk youth in the juvenile system, the CFP has expanded its services in the last several years to provide evaluation services for the juvenile courts and juvenile law attorneys in the Houston Metropolitan Area. These evaluations may include risk assessment, evaluation of needs, certification, and assessments of general psychological functioning. Our evaluation methods are informed by the empirical literature and utilize empirically supported assessment techniques. The goal of such assessments is to provide the juvenile system with information based on state-of –the-art science to assist with the management and rehabilitation of juveniles in the legal system.
Assessment of Risk Factors and Prediction of Future Recidivism among Juvenile Sex-Offenders
While recidivism rates for juvenile sex-offenders are lower than that of adults, it remains relatively common for a juvenile who has committed a sexual offense to reoffend, either with another sexual offense or an offense of a different type. Given that current methods of risk assessment and prediction of recidivism are lacking, the present study seeks to examine widely collected demographic and offense-specific data in order to refine risk assessment methods and prediction of future offending. Bayesian analyses will be used in order to account for risk factors associated with the index offense when predicting risk for future offending.
A Bayesian Approach to Determining Factors Influencing Emotional Distress Damage Awards in Sexual Harassment Cases
Juror decision-making in civil litigation has been a growing area of interest and concern to researchers in psychology and law. Despite the growing number of research studies and commentary in the area, there is a paucity of research on the factors that influence the awarding of damages (Robbennolt & Studebaker, 1999), especially for claims of emotional distress. Most research in this area employs frequentist, regression family or ANOVA analyses. However, the characteristics of the data are not well suited to such analyses, given its wide variability and lack of normality. The equivocal results of most of the research in this area, is due, in large part, to these factors. A more sophisticated way of examining the data is Bayesian Analysis. In the highly variable realm of damage awards, these analyses enable the researcher to conclude that a given variable has a certain percent chance of having a given effect. The purpose of the present study is to explore factors that might influence damage awards for psychological injuries in a specific context; sexual harassment litigation using Bayesian Analyses.
Using the J-SOAP-II to Predict Institutional Sexual Misconduct among Juvenile Sexual Offenders
Compared to adult sexual offenders, recidivism for juvenile sexual offenders is relatively low. Given this, it is critical that risk assessments accurately discern juveniles who are high-risk to sexually reoffend. In determining risk, juveniles who continue to engage in illegal sexual behavior despite the consequences are at higher risk of continuing this behavior into adulthood. The purpose of the present study is to assess the risk to sexually reoffend, using the Juvenile Sex Offender Protocol-II (J-SOAP-II), in a male juvenile sexual offender population upon entry to a residential treatment program. The Alabama Department of Youth Services reports of institutional sexual misconduct will be used to evaluate the predictive validity of the J-SOAP-II in the identification of high-risk juveniles. Implications of these findings to the assessment of risk in this population will be explored.