The University of Houston is pleased to host John C. Roberts as our current State Department Diplomat in Residence. His State Department career has included postings in Nicaragua, Russia, Iraq, and Barbados, as well as in Washington DC as a Staff Officer for Secretaries of State Powell and Rice.
If you are interested in learning more about opportunities for State Department internships or Foreign Service careers, please contact him to make an appointment: RobertsJC@state.gov
Diplomats in Residence (DIRs) are career Foreign Service Officers who are located throughout the United States and responsible for providing guidance and advice to students, professionals and the community about Department careers. DIRs are available to answer questions and share insight with those interested in Foreign and Civil Service careers, internships and fellowships. The University of Houston is one of only 16 U.S. universities to host a Diplomat in Residence.
UH Student State Department Intern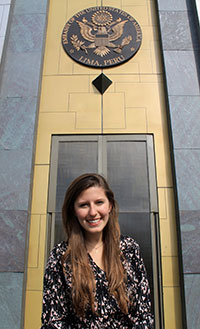 In Fall 2013 UH Political Science major Stephanie Brooks completed a State Department internship in Lima, Peru. Here is her report on this experience:
After living abroad and traveling to 26 countries, I have confirmed that exploring, encountering new cultures, and experiencing the adventure of being in a new place will be lifelong passions of mine. The Foreign Service has always intrigued me, but I never thought it would be something I could really get into. That is, until I met with the Diplomat on Campus who informed me that the State Department offers 10-week internship opportunities both domestically and abroad. Little did I know that I would be granted the incredible opportunity to intern in the Consular Section of the US Embassy in Lima, Peru. I've done some pretty amazing things while interning in the Consular Section – from helping the Fraud Prevention section uncover tourists who have overstayed their visas to an intimidating, unescorted American citizen prison visit to Castro Castro penitentiary on the outskirts of Lima. I have had the opportunity to shadow visa interviews and fingerprint visa applicants in an effort to maintain the security of our borders. But beyond that I have met some amazing, intelligent people who proudly represent the US and have made my internship an eye-opening, life changing experience. Deciding to work in the Foreign Service is not just a job- it's a life style. My experience in the embassy has made me realize that you must be truly committed and open to challenges to work in the Foreign Service. The State Department Internship program provides the opportunity to work and travel abroad at the forefront of US foreign relations.
For more information about State Department internships visit: http://careers.state.gov/uploads/e7/b9/e7b960a5f4da26fcc557a0e1b23ac499/13-23026c-Student-Internship-Booklet.pdf