Primacy in dance performances – music or choreography?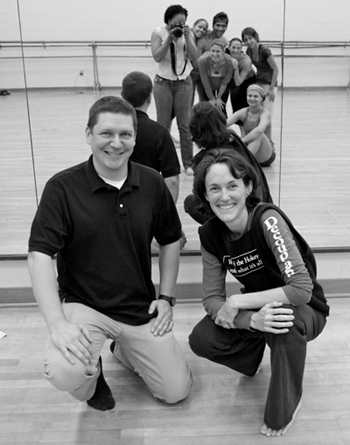 Karen Stokes' The Secondary Colors explores dance's chicken-or-egg debate
What comes first - the music or the moves? Why choose?
The Secondary Colors, a new collaborative work that meshes the artistic processes of choreographer Karen Stokes and contemporary classical music composer Bill Ryan, engages the dance world's version of the chicken-or-egg debate.
The evening-length trilogy of dance performances and original music was created using three different methods of collaboration:
a traditional model of setting a dance to previously-composed piece of music for a section called Orange,
a reversal of the traditional with new music composed for a previously-choreographed dance for the section called Green,
and the simultaneous development of music and dance incorporating an action-response dialogue to build the section called Purple
Additionally, each section explores through movement and music meanings housed in the featured color – green, orange and purple – and establishes a concept for community for each color.
"The three methods evolved organically from my introduction to Bill Ryan's music by colleague Rob Smith to the point where we began to create the newest section of the trilogy – 'Purple,'" Stokes said. "It's interesting that in doing this color trilogy, and we engaged in a three method process of collaboration."
Stokes is head of dance in the School of Theatre & Dance, Ryan is an associate professor and Director of New Music Ensemble at Grand Valley State University in Michigan and they each worked on the project from their home bases.
"As a collaborator, I loved having the chance to work with a composer I respect and whose work touches me," Stokes said. "Bill is an amazingly gifted composer, and the best part is that we genuinely like each other. As collaborators, we have compatible work ethics and aesthetics, which made the journey a pleasure."
But they didn't have compatible work spaces with Stokes based in Houston and Ryan in Allendale, Michigan. To close that distance, the two used social media technology to enhance their communication.
Stokes posted dance phrases performed by her eponymous company to a private YouTube channel, allowing Ryan to view the dancers as he composed music. Ryan downloaded musical motifs to Stokes that she played in dance rehearsals. The two used Skype to have "face-to-face" conversations about the process.
"Technology made it possible for us to share content quickly as we created. It was great," Stokes said. "I'm not sure we could have done it otherwise."
The Secondary Colors gets its world premiere October 20 -22 at Zilka Hall in the Hobby Center for the Performing Arts, 800 Bagby St. in downtown Houston. The premiere features the nine members of the recently re-named Karen Stokes Dance, costumes by Paige Willson (in collaboration with Stokes), and lighting design by Kris Phelps.
Ryan selected six nationally-known musicians to play the original score live during the premiere: Todd Reynolds on violin, David Cossin on percussion, Michael Lowenstern on bass clarinet, Andy Russo on piano, Jonathan Nichol on saxophone, and Pablo Mahave-Veglia on cello.
Partial funding of $38,100 for the performance was provided by the Cynthia Woods Mitchell Center. Karen Stokes Dance, a 501c3 non-profit company, also assembled an additional $45,000 in grants from the Houston Endowment, Houston Arts Alliance, The Hamman Foundation, and multiple individual donors.