Music student hits the high notes in pursuit of opera career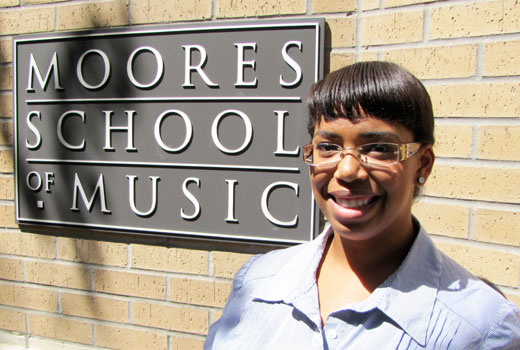 Candace Hudson, a music business senior, is an aspiring opera soprano from Cypress.
Moores School of Music senior Candace Hudson's dream job is to perform at The Metropolitan Opera in New York — but she said that's a "far, far away dream."
"Originally, I wanted to be in band when I was really young," Hudson said. "But my mom, she knew I sang all the time and so she said, 'Well, why don't you just do choir?' Because instruments cost money. So, I stuck with choir all the way through high school and then I was the choir president. And (then I said to myself), 'Well, I don't know where I can take this in life.'"
But then, Hudson learned that one of her previous choir directors at the high school she attended in Cy-Fair has a son who went to The Juilliard School in New York and became a professional performer.
"I didn't know you could do this and actually profit from it," Hudson said. "So I did some research and I applied at some other schools, but Moores was ideally the best for me and everything, and it was close — so it was very convenient. So, I'm here now because I enjoy singing and it's something that I feel like I'm good at, and so I don't want to try to search for something else that I would be OK at (that would) take years to find after I've already been working on this for so long."
Though her official major is Music Business, Hudson's passion has been performing as a soprano in local productions, and she has taken many courses in vocal performance. She said her favorite UH performance was the 2009 Moores Opera Center production of Daniel Catán's Florencía en el Amazonas.
"It's a beautiful story, the set we built for it was incredible," Hudson said. "They built a giant life-size boat, you could spin it around 360 degrees — it was just fantastic."
This Spring, she'll be in the chorus during the center's performance of W.A. Mozart's The Magic Flute.
As Hudson is finishing her final year at UH, she has been asked to serve as a Moores School of Music Ambassador, a role where she will officially represent the school to new and prospective students.
"What I like about the University of Houston is the quality of education," Hudson said. "All of our professors here are top-notch. I do like that we're striving to be Tier One, so that way we'll be more renowned for our Music School. Because it really is a phenomenal program, and our (professors) are just amazing, and I'd like to generate more interest toward that."
Along with her coursework, Hudson works in the Preparatory and Continuing Studies program in the Moores School of Music, has a paid position in the St. Mark's United Methodist chorus, and also works in the Moores School of Music box office. She hopes to continue her music education at the University of California, Los Angeles, Rice or the University of North Texas, where she'd like to study vocal performance.
"I think I'm soprano because my voice lies higher when I sing, even though when I speak, it's lower," Hudson said. "It's most comfortable for me in the higher range (instead of) the lower range, where I feel like I have to muscle it out."
Moores School of Music Visiting Professor of Vocal Studies Kay Lowe was instrumental in helping Hudson finding her voice, she said.
"She has just been really nurturing, and she really tries to work with what I have and not try to force me to be something different," Hudson said. "She works with my aspriations and what I want to do, and she is never discouraging or tells me I can't do that or this is too hard. She is just really there for you."
—Brandon Moeller