Katrina Madrinan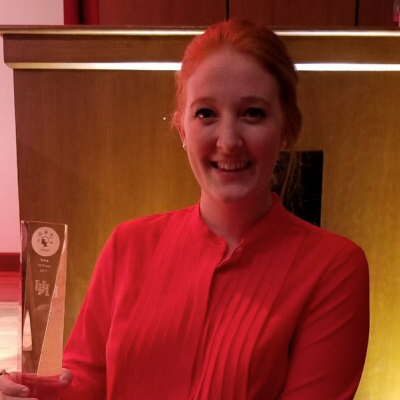 Sydnee Spruiell
Two Jack J. Valenti School of Communications students recently earned awards. Katrina Madrinan was named 'Most Promising Minority Student' by the American Advertising Federation and Sydnee Spruiell won first place at UH's Graduate Research and Scholarship Projects (GRaSP) Day.
Spruiell's talk, "Chronic Traumatic Encephalopathies (CTE): A Neurodegenerative Disorder as a Result of Mild Traumatic Brain Injuries," beat out 20 other talks from graduate students across the university and earned her a trophy and a $1,000 prize. Spruiell gave her award-winning talk one day after presenting her research at Boston University's CTE Conference and one week after facilitating a graduate mental health seminar.
"Graduate school can be a difficult time for many, because it can often feel like there's little positive feedback for your hard work, and you're surrounded by your peers who are equally stressed and sleep-deprived, which can sometimes create a sort of echo-chamber of self-doubt. Winning the GRaSP award made the long hours of practice and strenuous efforts exerted in the pursuit of meaningful research endeavors feel truly worthwhile," says Spruiell.
Every year, the American Advertising Federation chooses the top 50 most promising advertising seniors from across the nation to join the Most Promising Multicultural Student program (MPMS). In February, as part of the program, Madrinan will fly to New York for a week-long conference (all expenses paid). While there she will participate in an award luncheon, a recruitment expo, and she will interview with different recruiters from different advertising agencies. Essentially, the program is meant to help the students find jobs after graduation.
"Being part of this program means being grouped together with many of my role models in the industry," says Madrinan. "Hopefully through MPMS, I'll be able to secure a job as a copywriter at a digital advertising agency. I'm not really particular about the location; I just know that I want to keep making great things to share with the world."