Vi Dieu – B.A. in Dance
Spring 2015 graduate followed his instincts and pursued his passion to get dance degree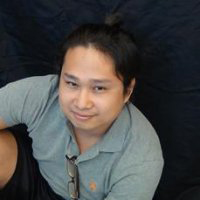 Vi Dieu graduated on May 15 with a Bachelor of Arts in Dance and as a member of the Psophonia and Karen Stokes dance companies and director of his own dance crew, United As One.
"My mother was the first to accept my decision in pursuing dance as my career, but my father was a bit more difficult," Dieu says.
His father worried out loud that his son would not find employment with a dance degree and that Dieu's interest in and talent for hip-hop dancing was a passing phase.
"Back then he'd often ask me in Cantonese, 'Are you sure you want to pursue this career? It's not going to be easy for you and you are gonna be broke,'" Dieu says.
Dieu's parents moved the family to Houston from Vietnam when Dieu was only six years old. They like so many immigrant families that came to the United States before and after them wanted a better life for their children. They encouraged educational achievement as the path to that better life and Dieu followed their advice and pursued his studies diligently.
But while learning English, making good grades in school and embracing American culture, Dieu found an aesthetic kinship in the musical and physical vernacular of hip hop.
"My sophomore year in high school, I really got into dance," Dieu says. "At that time, I was intrigued by the b-boy world and the hip-hop culture."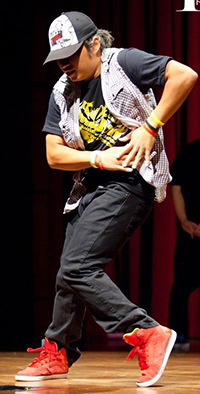 B-boying, also known as breaking and breakdancing, is a style of athletic and acrobatic dancing combining intricate footwork, power moves and freezing that's typically performed to funk or hip-hop music.
Dieu joined the hip-hop dance team at M.B. Lamar High School in Houston – and learned his body could speak in multiple dance languages. The school's Modern Dance team worked closely with the hip-hop team and that interaction introduced him to the diversity of dance techniques.
"Once I had my first performance on stage, my curiosity for dance grew in a different way," he said. "Getting to know the girls in Modern Dance was a fun, learning experience – the way they dance and moved was very different from hip-hop, and piqued my curiosity."
So, in addition to hip-hop dancing, Dieu took a modern dance class in high school.
"This is when I first experienced dance that is from a different world, a dance that was not hip-hop, a dance that speaks a language I have yet to understand," he says.
Dieu chose to attend UH because of the dance program. The School of Theatre and Dance provides the only degree program for dance in the city of Houston.
Once he enrolled at UH, Dieu was once again pushed out of his comfort zone as a dancer – he was required to study and learn ballet.
"Freshman year in UH were some very interesting and even awkward times for me," he recalls. "I never knew pointing my toes would be so difficult."
His technique improved and Dieu was selected to join the UH Ensemble Dance Company, a pre-professional dance company that gives students opportunities to work with local choreographers and gain experience with what it takes to dance professionally.
Through the UH Ensemble Dance Company, Dieu met and began working with the directors of the Psophonia Dance Company and the Karen Stokes Dance Company, and has had the opportunity to perform some of their original works.
"Vi has been a ray of sunshine in our program," says Karen Stokes, director of the UH dance program and artistic/executive director of the Karen Stokes Dance Company.
"While his consistent work ethic and dedication are points of excellence, his natural ability to combine work and joy is the quality that faculty and students alike are drawn to," she says. "Put simply, his joy makes work more fun. We definitely need more Vi's in the world!"
Dieu's direction of his own dance crew, United As One, which is also known as Unason, has honed his choreography skills and business acumen.
"I am busy working with my dance crew in getting ourselves ready for a dance performance during the Asian Film Festival that is happening in Houston on June 20," he says. "The piece I am setting will definitely incorporate a lot of the choreographic tools, ideas, techniques, and dance training I have gotten from the UH dance program."
Now that he is graduating with a degree in dance, Dieu is planning his future and seeking teaching opportunities.
"My parents are pretty happy and proud that I went with my instinct in pursuing this path," he says. "I enjoy it a lot when I show them videos of my performance or videos of me teaching kids how to dance and they have these very big smiles on their face as they watch. It's just a great feeling to know that your parents are proud of you. And seeing them happy makes me the happiest son in the world."
- By Monica Byars