Religious Studies major launched and new program director appointed
Dr. Christian Eberhart joins Comparative Cultural Studies Department to lead Religious Studies program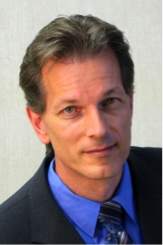 The study of religions and how they shape cultures and communities is a new major offered in the Department of Comparative Cultural Studies.
Dr. Christian Eberhart joins the College of Liberal Arts and Social Sciences this semester to serve as director of the new religious studies major. The expansion of the program from a minor to a major is particularly timely, Dr. Eberhart said.
"Religious Studies provides essential insights into what is going on today," he said. "Many contemporary conflicts and crises have to do with religious identity. The knowledge of a variety of religions and their differences and commonalities enables us to gain a deeper understanding of these struggles – and hopefully to overcome them and live in peace with one another."
CLASS has offered a minor in Religious Studies for years, but Dr. Lois Zamora, chair of the Department of Comparative Cultural Studies, believes that adding a B.A. program in Religious Studies supports the University of Houston's overall mission of offering nationally competitive and internationally recognized opportunities for learning, discovery, and engagement to our diverse student population.
Religious Studies courses fill to capacity, and the Department often adds additional sections to ensure that students have access to religious studies courses. The addition of Dr. Eberhart to the department's faculty also helps to meet the demand.
Dr. Eberhart grew up in Germany, has a Masters of Theological Studies from Harvard, and a PhD from the University of Heidelberg. He spent ten years in Saskatoon, Canada, where he was on the faculties of Horizon College and Seminary, Lutheran Theological Seminary and the University of Saskatchewan. To date, he has published four books with a fifth coming out soon titled,What a Difference a Meal Makes: The Last Supper in the Bible and in the Christian Church.
The Religious Studies major is not a degree in theology per se, but rather the study of religious belief systems from various disciplinary perspectives, including sociology, anthropology, art and political science. Courses range from Bible and Modern Science (RELS 3370) to Politics and Religion in South Asia (RELS 3382).
"Students will study world religions in comparative cultural context, and consider the many ways in which religious beliefs inform political and social behaviors," said Dr. Zamora. "Students are encouraged to deepen their understandings of their own and others' religious beliefs, and to appreciate more fully the ways in which religion shapes society at its deepest levels."
A capstone course will focus on students' career goals via research projects, study abroad, and/or internships in community organizations. Houston has a vast array of religious congregations and outreach opportunities that will provide students with relevant work experience as part of the major.
Jessie Smith, a student who was minoring in Religious Studies, has now declared it as his major. He anticipates graduating in Spring 2015 with a B.A. in Religious Studies and a minor in communications.
"I have been more successful in courses related to Religious Studies at UH than any other concentration," he said. "The decision to change my major was also based on my life being raised around my faith - I've always been a person willing to learn about other faiths and cultures." His post-college plans are to go to law school and join the Foreign Service.
A Religious Studies degree prepares students for a wide variety of careers and graduate programs. Research from the Bureau of Labor Statistics indicates strong job growth in social services and community relief organizations, sectors in which graduates can effectively use the knowledge and experience gained in the Religious Studies major.
Student Briana Garcia, who anticipates graduating in 2017, plans to apply her Religious Studies degree to her future as a missionary.
"I hope to learn about Christianity, Islam, and Judaism, and also to explore the history of the people who take part in them," she said. "Once I graduate, I will use what I learned in college to live an adventurous life, exploring the world and meeting people of all backgrounds and faiths. I'm excited for what the Religious Studies major will do for my future."
Dr. Eberhart foresees the program offering a broad exploration of world religions by means of respectful dialogue and in-depth research. "I hope to propose high-key research projects over the next few years, to collaborate with other religious academic institutions throughout Texas, and to prepare and guide students to engage in research themselves," he said. "Few academic disciplines are as interdisciplinary, international, vibrant, and relevant as religious studies."
- By Monica Byars