Public Relations Super Senior builds professional network before graduating
Gemrick Curtom combines on-campus leadership with on-the-job training to prepare for future career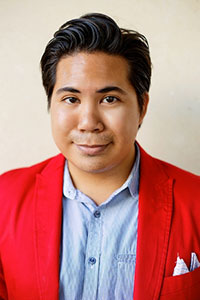 When he was a child, Gemrick Curtom enjoyed planning his birthday parties just as much as he loved celebrating at them.
But it wasn't until he decided to enroll in the Jack J. Valenti School of Communication and major in public relations that he realized he could have a satisfying and lucrative career in special events management.
"As a teenager I was interested in publicity and event planning, although I didn't entirely understand what PR was or the work behind it," he said. "When I transferred to UH, I realizedpublic relations was the career option I wanted to pursue."
To reach his goal, Curtom enrolled in the Jack J. Valenti School of Communication, declared public relations as his major and secured internships in a variety of industries.
 "The first internship I had was at a communications agency in Houston called 20K Group," Curtom said. "I worked on crafting social media posts, blogging about trending topics in public relations, and helping with client research and needs. It was a great internship that helped me build a foundation of strategic thinking. I was lucky enough to do that for two summers."
Then, he interned in the Alley Theatre's marketing and communication department where he wrote press releases, worked on marketing projects, and helped with event planning for the Theatre District Open House.
"Right now, I'm interning at PaperCity Magazine in the digital department, helping with social media," said Curtom. He's also strengthening his writing skills by working as an opinion columnist for The Daily Cougar, UH's student-run news organization.
His internships have allowed Curtom to work directly with PR professionals in Houston, creating relationships that could prove to be quite beneficial as he applies for jobs and launches his full-time professional career.
 "To me, networking goes beyond learning someone's name and exchanging business cards," Curtom said. "It's that connection when you speak and learn about different people's backgrounds. It's a mutually beneficial relationship when you help each other achieve a goal and how you can help others without always expecting something back in return. I think that philosophy has helped me network successfully."
His recognition of the value of networking on the job and off led Curtom to extend his own professional circle of contacts by running for and being elected president of the UH chapter of the Public Relations Student Society of America (PRSSA.)
"Gemrick jumped into PRSSA as deep as any PR student I've ever had, and it's fun to watch him encourage others to get involved too," said Julie Fix, a Valenti School instructional assistant professor and faculty advisor for the UH chapter of Public Relations Student Society of America. "While it wasn't all that comfortable for him at first, he's grown into quite a networker."
Curtom is also involved with the Houston chapter of Public Relations Society of America (PRSA) and serves on its New Pros committee, which provides career guidance, mentoring and professional development for PRSA members in their first three years of public relations experience.
"As president of the UH chapter, I serve as a liaison to PRSA and act as a knowledgeable source for fellow students as they prepare to enter the professional world upon graduation," he said.
Because of his dedication to his future profession and his academic achievements, Curtom was honored recently as a UH Super Senior at a welcome-back-to-school event that brought together undergraduate seniors and professionals from a variety of industries to give both the students and the professionals an opportunity to connect.
Only ten graduating seniors per UH college were invited to attend the event, along with a few second year graduate and third year law school students. Companies in attendance included AT&T, ExxonMobil, Marathon Oil and Schlumberger.
"Each person I met shared advice for interviews, resumes and professionalism - especially for their varying industries. It was a nice opportunity to glean tips and advice," said Curtom.
Originally from Sugar Land, TX, Curtom attended Elkins High School and graduated from there in 2010. He briefly attended Houston Baptist University before transferring to the University of Houston.
"I decided to attend UH because I wanted to stay in Houston. I love being in this city and I came here when UH was undergoing many changes. I'm glad I can witness the journey UH has made while I'm a student here," he said.
Curtom credits Professor Fix for keeping him excited about his future career in public relations.
"The best advice she has given me is, 'Do it,'" he said. "When it comes to reaching goals, Professor Fix has told me to continue aspiring for bigger goals. People can have fantastic ideas, we just need to execute them and just do it. There's no need for hesitation."
After graduation, Curtom plans to vigorously pursue a public relations career in the entertainment and fashion industries with a long-term goal of opening his own public relations agency.
"Gemrick is one of those students who grows in front of a professor's eyes, learning, stretching, and maturing as you watch," said Prof. Fix. "You just know that this is a student who will go places.  Although I can't remember every student I've taught or supervised, Gemrick is one I won't forget -- for all positive reasons."
- By Monica Byars