The new cohort of CLASS Dissertation Completion Fellows
The College of Liberal Arts and Social Sciences has selected its fourth class of Dissertation Completion Fellows.
Six doctoral candidates in the humanities, health and social sciences and arts comprise the 2014-2015 cohort of fellows.
The highly-selective fellowship program provides stipends of $22,000 to cover students' expenses for up to a full academic year while they complete their dissertations.
The fellowships were established to reward excellence, persistence and hard work by doctoral students and to provide them with financial support so they can spend their last year or two concentrating on the completion of their dissertations.
The funding for the program comes out of a Houston Endowment 2011 grant of $5 million to support doctoral education at the University of Houston. A portion of those funds was designated for CLASS to support the dissertation completion fellowships.
Increasing the number of students awarded doctoral degrees is a top university priority and CLASS strongly supports the goal of this university initiative.
The new fellows are:
Abdullah Aydogan, Department of Political Science
Mr. Aydogan received his B.S. in Mathematics from Bogazici University  in Turkey in 2008 and his  M.A. from the University of Houston in 2012 before joining the UH Department of Political Science as a Ph.D. candidate. He is the coauthor of an academic journal article "Left-Right Reversed: Parties and Ideology in Modern Turkey" with Prof. Jonathan Slapin forthcoming in Party Politics.
Dissertation Title: Institutional Foundations of Military Coup d'Etat: Constitutional Design and Military Centrality
Advisor: Prof. Jonathan Slapin
Summary:  This dissertation examines how the likelihood of military coups varies depending on a country's adopted institutions with a focus on two types of institutions -- parliamentary versus presidential structures, and the military's political, financial, and judicial privileges. It will include a qualitative comparative analysis of the civil-military conflicts experienced in two Middle East countries, Turkey and Egypt.
Justin Chrestman, Department of English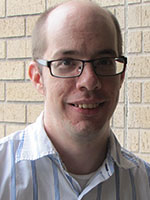 Mr. Chrestman was born in El Paso, TX and raised mostly in New Mexico. He has an M.F.A in Creative Writing from New Mexico State University. He is pursuing a Ph.D. in fiction and literature in the Creative Writing Program of the department of English. His work has appeared in the Owl Eye Review and Puerto del Sol.
Dissertation Title: Defend Yourself and Those You Love
Advisor: Prof. Robert Boswell
Summary: His short story cycle takes place in the Desert Southwest between the years 2001-2010 and consists of ten linked stories, one for each year of the decade. The project deals with themes of violence and intergenerational conflict.
Sandra I. Enríquez, Department of History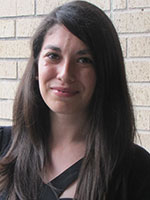 Sandra I. Enríquez is a native of Ciudad Juárez, México and moved to the United States in 2000. She received a B.A. in History with a minor in Spanish and an M.A. in U.S./México Border History with a minor in Public History from the University of Texas at El Paso. At the University of Houston as a doctoral candidate, Sandra studies twentieth century United States history. Her research interests include Chicana/o and urban histories, activism and resistance, gender, and oral history.  
Dissertation Title: "¡El Barrio Unido Jamás Será Vencido!:" Neighborhood Preservation in El Paso, Texas
Advisor: Prof. Monica Perales
Summary:  The study focuses on ethnic Mexican struggles for community preservation amidst urban revitalization projects in El Paso, Texas in the 1960s and 1970s. Through different forms of resistance and activism, the Mexican American population fought for the safeguarding of their homes and neighborhoods. Through their struggle, they pushed to attain socio-economic and political mobility and the inclusion of their culture and presence in the history and representations of El Paso.
Samantha Farris, Department of Psychology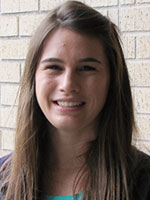 Ms. Farris is a fourth-year doctoral candidate in the clinical psychology program. She received her B.A. in psychology and sociology at Rutgers-The State University of New Jersey in 2009 and M.A. in psychology from the University of Houston in 2012. Her research broadly focuses on the interplay between tobacco use, emotional processes, and health. Ms. Farris completed a cancer prevention fellowship at The University of Texas MD Anderson Cancer Center and is the recipient of a pre-doctoral National Research Service Award from the National Institute of Drug Abuse (F31-DA035564).
Dissertation Title: Anxiety Sensitivity and Smoking Topography: A Multi-Method Experimental Investigation
Advisor: Prof. Michael Zvolensky
Summary: Her research uses experimental laboratory methodologies to examine underlying, explanatory mechanisms related to cigarette smoking and anxious arousal.
Guillermo E. Nakhle, Department of History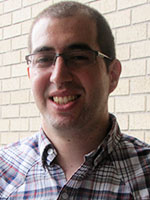 Mr. Nakhle was born and raised in Salta, Argentina. After earning the B.A. in History with a minor in Economics at Universidad Torcuato Di Tella (UTDT) in 2005, he worked in high schools and colleges under international regulations in greater metropolitan area of Buenos Aires. In 2010 he shared the first place in the Annual Economic Research Award granted by the Central Bank of Argentina. After completing the M.A. in History at UTDT, he enrolled in the University of Houston economics doctoral program.
Dissertation Title: Economics in History: The Apologetic Science in Argentina, 1913-1953
Advisor: Prof. Thomas O'Brien
Summary: The dissertation shows how economics established itself within the social sciences in Argentina during the first half of the 20th century. This work argues that as a university-rank discipline, economics sought both the credibility and the aesthetics of hard sciences and that economists rehearsed apologetic techniques to achieve national recognition of their expertise. The implications of this research can be applied to other developing economies during the interwar period.
Edna V. Velásquez, Department of Hispanic Studies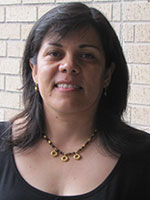 Ms. Velásquez was born in Colombia, where she obtained a B.S. degree in Mathematics at Universidad Distrital Francisco José de Caldas and a B.A in Teaching English as a Foreign Language (TEFL) at Universidad Nacional de Colombia. She worked in Bogotá, Colombia as an English teacher for five years and then moved to Houston in 2001, where she worked as an elementary bilingual teacher for eight years. She obtained her M.A. degree in Spanish linguistics at University of Houston while working as a Spanish instructor for both second language and heritage language learners at the same institution. She continued alternating her studies with teaching in order to obtain a Ph.D. degree.
Dissertation Title: Lexical Competence and Reading Comprehension: A Study with Speakers of Spanish as a Heritage and as a Second Language
Advisor: Prof. Marta Fairclough
Summary: This research attends to literacy in Spanish as a heritage language (SHL), investigating the relationship between lexical competence and reading comprehension for SHL students. The study also addresses the existence of a lexical threshold, an approximate percentage of words that students should know in order to understand an authentic reading passage. Considering the growing demand for SHL classes in the United States, the study provides guidance for more effective curricular design, better instructional materials and improved assessment practices.