How healthy can meals be if you spend $25 a week on food?
HHP students take Food Stamp Challenge and gather nutrition data for research report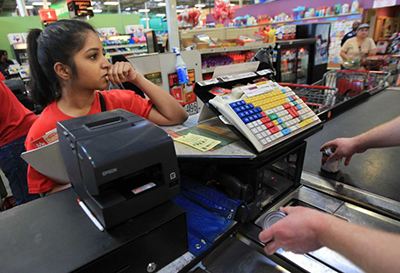 Photo credit: Mayra Beltran, Houston Chronicle
Exactly how would you plan and prepare three meals a day for seven days if you only had $25 to spend on food for the week?
That was the challenge that students in an honors class in nutrition policy in the Department of Health and Human Performance tackled when they took on the "Food Stamp Challenge" as part of a class project.
Religious groups and community activists started the challenge to draw attention to the pressures faced by the poorest Americans in feeding their families.
The nine students in the class took part to examine the nutrition content of the meals they were able to cobble together on their limited budgets.  The students recorded everything they ate for the week, determining the number of calories, fat, vitamins and minerals, generating a class nutrition data set for analysis. They will present their findings iat the University's Undergraduate Research Day.
Their efforts, as well as those of Assistant Professor of Health and Human Performance Daphne Hernandez, who teaches the class and also took the challenge, were documented by local media.
The Houston Chronicle featured the challenge in Students go on $25 a week food stamp diet.
KHOU-CBS Channel 11 featured the challenge in the story, UH health students take on $25 food challenge
The challenge was featured on KTRK-ABC Channel 13 in the story,Students learn difficulty of proper nutrition after participating in UH food stamp challenge.