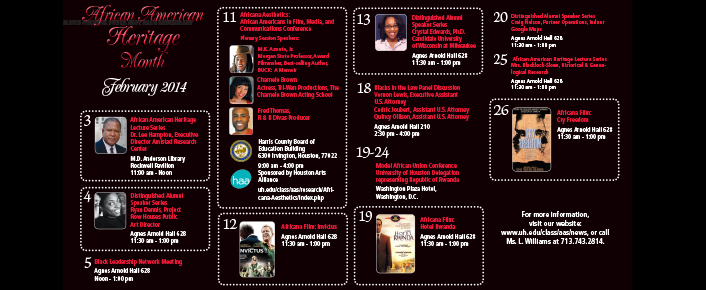 African American Studies Program celebrates its history in February
Interdisciplinary Studies program commemorates African American Heritage Month
The staff and faculty of African American Studies have enhanced the program's year-round academic offerings, guest lectures and special events with a host of activities to celebrate African American Heritage Month 2014.
This year, AAS will spotlight UH graduates with a Distinguished Alumni Speaker Series, as well as host "Africana Aesthetics: African Americans in Film, Media, and Communications Conference."
On Feb. 18, AAS will host a "Blacks in the Law" panel discussion at 2:30 p.m. in Agnes Arnold Hall, Room 210. Houston-based federal prosecutors Vernon Lewis, Cedric Joubert and Quincy Ollison will lead the conversation.
For a full schedule of events, visit http://www.uh.edu/class/aas/_docs/February-2014-Calendar.pdf. Call 713-743-2811 for more information.