Personal tragedy changes trajectory of student's academic career
Eric Schroeder went from college dropout to 4.0 GPA graduate to honor his brother's life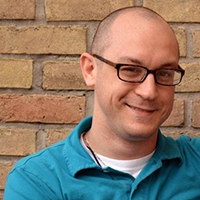 Eric Schroeder majored in political science to change how lawmakers and government regulators perceive mental illness.
His brother lived with paranoid schizophrenia for many years until he could not live with it any longer.
"Losing my older brother Alex to suicide was unspeakably painful," Schroeder says, "but it opened my eyes to the ways we marginalize people with mental illness. And it drove me back into school so I could learn to be an advocate for other people in his position."
Schroeder came to UH from Walker, LA, a small town near Baton Rouge. He graduated from high school in 2004, and then attended Louisiana State University. However, while at LSU, he says he floundered because he did not have clear goals. He eventually left the university in 2009 with substantial debt, but without a degree.
"In my five years there, I never knew what I wanted to do with my life, and I went through eight majors – chemical engineering, creative writing, and everything in between – before settling on general studies just to try to get a degree," he says.
Soon after he dropped out of school, his brother ended his battle with mental illness by taking his own life.
"This gave me a cause, but it took time before I could pay off LSU," Schroeder says. "I kept a low-paying retail job, but after moving to Houston for my husband's job, we were able to pay that debt. That same day, I enrolled at UH."
In his years at UH, Schroeder has stayed focused and determined to learn what he can about how to develop and refine public policies on mental health.
He conducted an independent study with Michelle Belco, a lecturer in the department of political science, on the survival rates of mental health legislation in the Texas Legislature from 2009 to 2013.
This summer, he and Natalia Zhivan, a clinical assistant professor of economics, researched variations in income and employment disparities among people with mental illness.
"Research indicates that people can't find work because of their illness, then being out of work hurts their mental state, causing a repetitive cycle," Schroeder says. "I wanted to see if that repetitive cycle changed depending on what state the person lives in. There might be something other state governments are doing policy-wise that Texas might be able to borrow to make our own programs more effective."
And he is working this semester in the Houston offices of State Representative Garnet Coleman, a long-time champion of mental health issues in the state Legislature.
On December 19, Schroeder graduates with a Bachelor of Science in Political Science and a perfect 4.0 grade point average.
"My entire experience at UH, from the decision to enroll to finally graduating, has been one continuous personal growth," he says. "Every course I've taken and every opportunity I've been given since I stepped onto campus has challenged me to work harder for that goal, and I think I'll be a better advocate because of that."
Schroeder has accepted a post-graduation fellowship through the Hobby Center for Public Policy to continue to intern for a state representative in Austin during the upcoming legislative session. He hopes he will be assigned to continue working for Rep. Coleman.
"He's been working on mental health issues for more than twenty years, and I'm excited to continue learning from his experience in a more policy-oriented role," Schroeder says.
Once his internship in the Capitol is complete, Schroeder plans to pursue a master's degree in public policy.
"My brother was just one among the 10 percent of Americans with paranoid schizophrenia who take their own lives," Schroeder says. "Our mental health policies are tragically inadequate, and whether I end up working for a legislative body, an executive agency, or a nonprofit organization, I want to play a role in building a robust mental healthcare system that works for the people who need it most."
- By Monica Byars