Doing good work and making it easier to help others
Chris Robinson uses his graphic design skills to develop a volunteer management app for mobile devices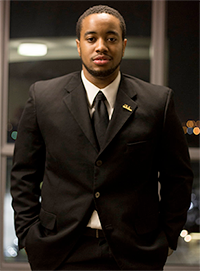 Chris Robinson's commitment to community service extends beyond the volunteer work he does to the academic work he loves.
As the vice president of Collegiate 100 at UH, the college auxiliary branch of the 100 Black Men – Houston Chapter, Robinson contributes his time and talent to organizing fundraising activities and public awareness campaigns to enhance the educational and economic opportunities of African American people.
As an art major with a minor in graphic communication technologies, Robinson helped to create a volunteer management application for mobile devices.
"The app allows non-profits that have a large number of volunteers to more efficiently interact with one another," Robinson says. "There's hours tracking, a calendar, task handling, and contact information that can all be stored within the app - among other features. The big idea is to create a sense of community for the users."
He sees an opportunity for the 100 Black Men organization to utilize his app.
"It supports and combines all platforms of web communications," he says. "It would keep everyone in the loop all the time."
Robinson's work on the volunteer management tool came through the UH Summer of Apps Program, which gave 12 undergraduates from all disciplines the opportunity to have a full-time summer research experience under faculty mentorship.
The program taught the students how to build apps for phones and tablets that directly benefit Houston non-profit organizations. Robinson worked alongside fellow CLASS student Nikala Asante and Dr. Dan Price, professor in the UH Honors College, to create the app, which is currently in the testing phase.
"For the volunteer management app, Chris has done all the visual design, but also led in the conceptual design at every stage - it's really a mark of his keen insight into the way the design makes or breaks the project," said Dr. Price.
"It was very exciting," said Robinson. "I was able to work with some truly talented individuals. And it's not often that you get to see your peers from school in a work-like setting. It was an eye opener for me to explore different, creative thought processes."
The faculty members were impressed with Robinson and his work and invited him to collaborate with them on a subsequent venture.
"We asked Chris to continue working with us on a project with Community Health Workers in the City of Houston and he's been the lead for all our presentations, and has consistently earned everyone's admiration and respect," said Dr. Price. "He's simply great and we've been very pleased to have him work with us."
On December 19, Robinson graduates with his bachelor degree in art. The summer spent building apps gave him opened his eyes to how the skills he's developed in college can help him make a difference for others.
"I'm really into web-based things like app development and web design," he says. "I'm looking forward to a career in the design field."
- By Monica Byars