It's Never Too Late: Fall 2014 Commencement's oldest graduate earns bachelor's degree
Stefanie Pollard completes BA in philosophy after long hiatus from higher education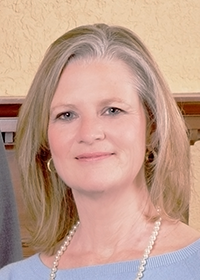 Stefanie Pollard owns a successful real estate company, has been a realtor for over 25 years, and she and her husband have raised two children.
As proud of those accomplishments as she and her family deservedly are, Pollard's list of personal and professional achievements had a hole in it.
"A few years ago, my oldest son pointed out to me that I was the only member of the family without a degree," she recalls.
Not one to turn down a challenge, Pollard decided to return to school to complete the philosophy degree she had begun decades ago.
"The majority of my college career was at Tulane University back in the late 60's," said Pollard. "However, I dropped out after my first semester senior year because I was a philosophy major and thought I had all the answers."
She used the writing skills she developed at Tulane to start a marketing company in New Orleans, write film scripts and edit a local magazine. In this post-college, career-building period, she also met the man she would marry.
Shortly after the wedding, her husband's job transferred the couple to Houston.
"I had to close my company in New Orleans and move to Houston while I was pregnant," Pollard says. "I had my first son, and quickly decided I needed some intellectual stimulation along with the total joy of motherhood."
So, Pollard enrolled at the University of Houston and took a few classes while caring for her newborn.
"I took a fabulous philosophy class that basically was about whether machines can think," she recalls.
When her family expanded and the demands of child rearing increased, Pollard postponed degree completion again. But she made sure her two sons earned their college degrees and she launched a second career in real estate sales, eventually co-founding Semmler Pollard Properties.
Years later, when her adult son commented about her lack of a degree – that was the last push Pollard needed to complete her education.
In fall 2012, she re-enrolled at UH, and began taking two classes at a time.
Her perseverance and hard work culminates on December 19 at the College of Liberal Arts and Social Sciences commencement ceremony, where Pollard will be awarded a bachelor's degree in philosophy with a minor in English.
At age 64, Pollard will be the oldest person to graduating from UH in Fall 2014. She appreciates being recognized for that distinction, but is most proud of graduating with a 3.94 grade point average.
With the hole on that "things to accomplish" list plugged, Pollard is refocusing her attention on her professional life and spending free time pursuing personal interests and hobbies. She recently took up yoga, and does home remodeling.
"I'm going to keep working – I love what I do," she says. "But I also plan on doing more thinking, reading, playing, and traveling."
And she hasn't ruled out continuing her education.
"I am considering graduate school and would love to help as a research assistant on some level," she says. "Life is good!"
- By Monica Byars