Student playwright premieres her first full-length play
Senior Kendall Kaminsky's play opens in Houston Dec. 4-6 after an NYC reading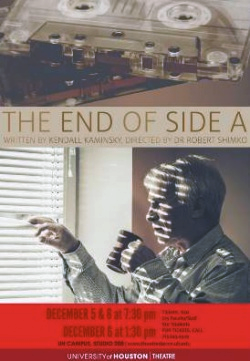 The long hours of readings, rehearsals and revisions are done. The world premiere of The End of Side A, the first full-length play by Theatre & Dance senior Kendall Kaminsky, is set for this month in Houston.
Directed by Associate Professor Rob Shimko, The End of Side A follows a brother and sister who discover their father's collection of audiocassettes. These tapes contain secretly recorded conversations of tenants from an apartment he once managed. The siblings listen to these tapes in an effort to better understand their departed father.
"This story has been in my head for about three years and eventually evolved into The End of Side A," Kaminsky said.
Her play was selected from several student submissions to be part of the 2014 – 15 performance season of the School of Theatre & Dance. As coordinator of the School of Theatre & Dance's playwriting/dramaturgy division, Dr. Shimko selects a student play to be developed, produced and performed.
"The End of Side A" has been in development for six months. In May, the play had its first reading with a different cast. Since that initial run-through, the story and characters continued to grow.
"Many of the play's details came out of the first reading," Kaminsky said. "The characters grew from a vague idea of family into real people. A lot of those points came from the insights of the actors."
The experience of watching her work evolve from its initial readings and during rehearsals has been both rewarding and educational. Likewise, collaborating with director Shimko has helped advance the play's development.
"Having another set of eyes looking at the play has helped it take shape," Kaminsky said. "When I am writing, I am not thinking about its structure. Professor Shimko helped mold it into a polished product."
"I try to be light in my feedback," added Shimko. "Ten years from now, I want her to revisit this play without remembering the specifics of what I said. I want her to retain her own lessons. This is her work. I am helping serve as a truth detector to help make sure the characters' words will ring true for the audience and that their emotions seem real. Other than that, this is Kendall's play."
In addition to the Houston premiere in December, Kaminsky's play was accepted into the National Theatre for Student Artists' Design Launch workshop series. Through the workshop, a New York audience experienced a reading of the play in a Brooklyn studio space in late November.
Kaminsky's short play, "Lions" was featured in the School of Theatre & Dance's first 10-Minute Play Festival launched in April 2014. She's contributing work to the second edition of the festival, which will be presented in spring 2015.
And Kaminsky is writing another full-length play for a capstone project – guided by Distinguished Visiting Professor of Playwriting Theresa Rebeck.
For now, however, all of Kaminsky's attentions are focused on "The End of Side A."
"I'm excited and a little anxious," she said. "I've learned a lot and am grateful for the opportunity to showcase my work."
- Mike Emery
The End of Side A
The family drama will be performed Dec. 4 - 6 in Studio 208 (second floor of UH's Cynthia Woods Mitchell Center for the Arts – Entrance 16 off Cullen Boulevard).
Tickets are $10, $15 and $20 and can be purchased online or at the SOTD box office (first floor in the Mitchell Center building).
Show times are as follows:
7:30 p.m. – Dec. 4, 5, 6
1:30 p.m. – Dec. 6
Related Links