Summer education experiences enhance CLASS students' college careers
Three student essays about how what they did this summer impacted their career options
Even when not enrolled in on-campus courses, CLASS students engage in activities that enhance their educations and expand their career options.
From traveling overseas to take study abroad courses to doing research on campus with top professors, well-planned summertime experiences benefit students in every academic discipline.
Three CLASS students wrote essays about their own summer 2013 experiences.
Prepared to excel: Summer field training changes a student cadet
Air Force ROTC Cadet Carisma Gutierrez learns to lead and task risk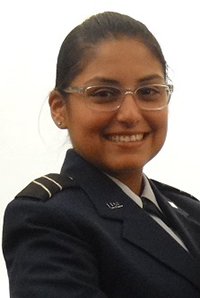 Field training prepares cadets physically, emotionally, and mentally for the military world. It's similar to "boot camp," but different in a very significant way. Instead of being eight weeks long as boot camp is, field training is crammed into 28 days.
As a cadet in the Air Force Reserve Officers' Training Corps (ROTC), I was expecting an intense physical work out, being pushed to the limit, and being forced out of my comfort zone. Field training exceeded my expectations.
Every day, I had to be prepared to lead. When I wasn't, I received a rude awakening from the Cadet Training Assistant or Flight Training Officer at Maxwell Air Force Base in Montgomery, Ala.
Part of the problem was that I had physically prepared myself for field training, but not mentally.
I left for field training scared to fail. I was afraid to make mistakes and I was afraid to take risks. I prepared myself to not fail, instead of preparing myself to excel.
The very first week of field training was horrible because I still carried the same mentality. During the second week of field training, my performance was worse.
I hated field training more each day because I didn't know my purpose or reason to be a future Air Force officer. I was so distraught that I considered dropping out of the training.
However, before I made a final decision, I gave myself a couple more days. In those few days, I was given the opportunity to lead. I approached this task as "my last chance to shine." I had only a short amount of time to plan and even less time to execute. When the task was completed, I took a deep breath and waited to receive my performance score.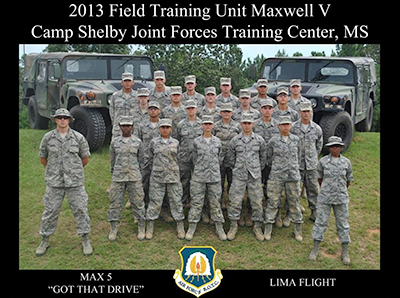 When a cadet is given a leadership position or a task to lead, the cadet's performance is graded with one of five ratings – outstanding, excellent, satisfactory, marginal, and unsatisfactory.
My leadership performance was rated OUTSTANDING.
My confidence renewed, I completed my training. Through that experience I came to realize that you must believe in yourself, believe in everything you do, and approach every challenge as if it's your last opportunity to shine. If you do those three things, when the challenge is completed, you will have proven to yourself and to others that anything is possible and all can be accomplished.
As a result, I can say that I am proud and ready to become one of the world's best Air Force officers.
- By Carisma Gutierrez
Drums of Ghana: Spiritual awakening brings deeper meaning to student's studies
Summer 2013 study abroad experience is transformative for junior Da'vonte Lyons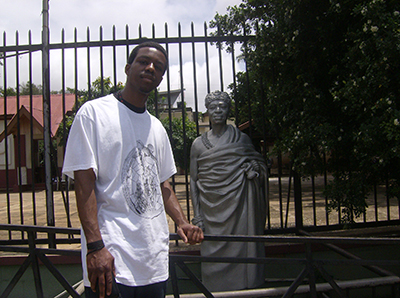 On July 18, 2013, I traveled to Ghana in West Africa as part of a field study course in the African American Studies Program. This two-week study abroad experience allowed me to connect personal experiences to three years of research on African culture and tradition at the University of Houston.
I'm majoring in Graphic Communication and minoring in African American studies. After I receive a BA in Graphic Communications, I will pursue a master's and doctorate degree in African American studies. In my graduate studies, I will combine my artistic and graphic design skills to bring a visual aspect to my ethnic studies research.
While in Ghana, I visited Akosombo, Kumasi, Cape Coast, and the capital city of Accra. In all of these regions, I was able to see various aspects of African tradition, ethics, and philosophies. With that said, the highlight of my experience took place in Cape Coast.
During my two days in Cape Coast, I participated in the Panafest and Emancipation Day reverential ceremony and candlelight vigil at the Cape Coast Castle. During the ceremony, various rituals were performed in honor of the ancestors and Ghana's independence.
The most captivating part of the experience was the playing of the drums. During the opening portion of the ceremony the drums were played at a heavy rhythm. As I listened to the rhythm, I felt its vibrations as its energy traveled through the concrete pavement, up my legs, and through the rest of my body.
During this moment, I could feel my mind open and thoughts flowed in ways that I never experienced. The rhythm had touched my soul deeply. In relation, there was also a spiritual connection with the other African people who attended the ceremony.
Later in the ceremony, there was a spoken word and testimony period where reverence was given to the creator and the ancestors through the performance of rituals and the singing of songs. For me, this experience awakened my spirit and conscious and gave me a deeper understanding of my cultural homeland, African spirituality and ritual tradition.
While in Ghana I was able to experience what I read in books, heard in lectures, and watched in documentaries. My travels added meaning to my understanding of the African culture and added substance to my research.
- By Da'vonte Lyons
Paying attention: Research makes texts come alive for psychology major
J. Alex Fisher one of several CLASS students participating in the 2013 Summer Undergraduate Research Fellowship (SURF) Program
This summer I have been honing my research skills and learning about various fields within cognitive development as part of the Summer Undergraduate Research Fellowship (SURF) program. I learned the steps involved in designing an experiment, properly working with human participants, and synthesizing previous literature on the research topic.
By the end of the summer, I learned a lot about research trial and error, and, especially, that the design of a research project needs frequent tweaking before it is satisfactory.
The study I am working on asks if the attentional biases that are advantageous for learning nouns impede the learning of adjectives. Attentional bias occurs when a correlation is made based on limited information or incomplete analysis.
One of my roles was to recruit research participants via a sign-up sheet, and word of mouth and other methods, schedule and run them through the experiment. Throughout the summer, the ways in which I run participants has been altered slightly to produce the most accurate data possible.
I learned a lot about language development from the articles I read and the graduate students with whom I worked. For example, children know that a new word does not name something that already has a name – a concept known as mutual exclusivity. Children also give names to solid objects based on the shape of the object, which is called shape bias. Gaining an understanding of the basic mechanisms of language development in early childhood helped me to understand why the research being conducted over the summer is important.
Since children exhibit the shape bias when nouns comprise a large portion of their early vocabulary, they learn nouns more rapidly than other parts of speech. The way nouns are learned is through attention. In early world learning, children selectively pay attention to perceptual and linguistic cues and characteristics to learn the names of objects. Acquiring adjectives is more difficult and occurs after nouns are acquired. The research I worked on this summer was focused on adjective attention.
Specifically, the study aims to see if children exhibit an attentional preference when learning shape, texture, and color. The design of the study required five novel textures, colors, and shapes. This summer, I was norming the stimuli that are going to be used. The shapes have been normed, and the five that are least familiar, and most neutral in complexity will be used in the study. By finding the least familiar and most neutral in complexity, it will be easier for the children to see the shapes, textures, and colors as novel (least familiar) and learnable (medium complexity, since research shows that too complex is difficult to learn and too simple can lose a child's attention).
Having invested so much time into research this summer, I will now look at the studies I learn about in my classes with a more critical perspective. The research skills I have gained are valuable to any field in psychology, and will make me a better researcher when I attend graduate school in the future.
- By J. Alex Fisher