New faculty members bring their scholarship and creativity to CLASS
New tenure-track assistant professors join the faculty of the College of Liberal Arts and Social Sciences
The faculty ranks of the College of Liberal Arts and Social Sciences expand this year with fourteen scholars hired as assistant professors. Their expertise expands the College's research and teaching capabilities throughout the humanities, social sciences and arts.
The University of Houston's focus on health and the arts is reflected in the hiring of scholars bringing fresh perspectives to these fields of study. For example, Dr. Hojoon Choi's research interest in health issues in advertising will enhance the health communication program within the Jack J. Valenti School of Communications while the Department of History has hired two professors who have developed expertise on environmental health issues and public history.
Also new to campus is Keliy Anderson-Staley, who currently has a photo on display in the National Portrait Gallery of the Smithsonian in Washington, D.C. She joins the School of Art faculty.
Read more about the new tenure-track faculty members below:
School of Art
Keliy Anderson-Staley, Assistant Professor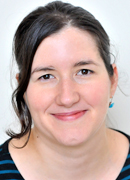 An award-winning photographer, Keliy Anderson-Staley earned her Master of Fine Arts degree from Hunter College, City University of New York in 2006 and her bachelor of arts in photography from Hampshire College in Amherst, Mass. in 2001. Her photograph, "Kevin," is on exhibit until Feb. 23, 2014 in the Smithsonian National Portrait Gallery as a finalist in the 2013 Outwin Boochever Portrait Competition. Prior to joining UH, Ms. Anderson-Staley taught photography courses at Syracuse University, Parsons School of Design, Bowdoin College and several other academic institutions. Her book, Keliy Anderson-Staley: On a Wet Bough, was published this year.
Jack J. Valenti School of Communications
Hojoon Choi, Assistant Professor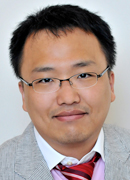 In December 2012, Hojoon Choi completed his Ph.D. in mass communication, with a concentration in advertising, at the University of Georgia. His dissertation, "The Role of Self- and Functional Congruity in Food Advertising: A Model Test of Key Antecedents, Mediators, and Outcomes," won the American Academy of Advertising's Doctoral Dissertation Competition. As an undergraduate, Dr. Choi double majored in advertising/public relations and business administration at Hanyang University in South Korea. His professional experience ranges from serving as an Airman First Class in the Republic of Korea Air Force to serving as a public relations program translator in Athens, GA. Dr. Choi's research interests include health issues in advertising, cultural differences in communication, and crisis communication.
Department of Communication Science and Disorders
Ashwini Joshi, Assistant Professor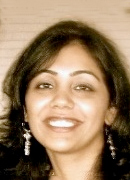 Ashwini Joshi received her doctorate in rehabilitation sciences from the University of Kentucky. Her doctoral research examined the effects of vocal fold paralysis on various brain regions and its corresponding manifestation on parameters of voice assessment. Prior to starting at the University of Houston, Dr. Joshi worked clinically with adults with acquired speech and language disorders. Her research interests focus on voice and voice disorders.
Amber Thiessen, Assistant Professor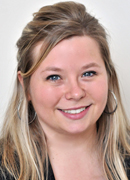 Amber Thiessen received her Ph.D. from the University of Nebraska-Lincoln. She completed her undergraduate degree at the University of North Dakota in Grand Forks. Prior to earning her doctorate, she worked as a speech-language pathologist with adults with acquired neurological disorders. Her research focuses on creating effective augmentative and alternative communication (AAC) displays for adults with acquired brain injuries and other neurological conditions and improving treatment outcomes through communication partner/facilitator training.
Department of Economics
German Cubas, Assistant Professor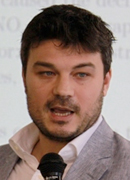 German Cubas has spent the last three years working as a Senior Researcher at the Central Bank of Uruguay, as well as serving as an Assistant Professor in the Department of Economics at the Universidad de la República, Uruguay. Dr. Cubas was awarded a Fulbright Scholarship for graduate studies in the U.S. from 2005 to 2007. He completed his M.A. and Ph.D. in Economics at the University of Iowa in 2010. He has also served as a visiting scholar at Arizona State University and at the Federal Reserve Bank of St Louis. Dr. Cubas' major fields of concentration are macroeconomics, growth and development.
Department of Health and Human Performance
Yoonjung Park, Assistant Professor
Yoonjung Park received his master's degree from the University of Texas and his doctorate from Texas A&M University.  Prior to joining UH, he was an Assistant Professor in the Department of Health, Exercise, and Sports Science at Texas Tech University. He completed post-doctoral training in the Department of Internal Medicine at the University of Missouri-Columbia. Dr. Park's primary research is an investigation of how exercise alters vascular function in people with pathophysiological conditions, including obesity, type 2 diabetes, hypertension and Alzheimer's.
Department of History
Richard M. Mizelle, Jr., Assistant Professor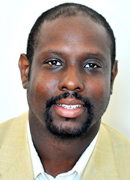 Richard M. Mizelle, Jr. has spent the last year as a post-doctoral fellow in the Center for Public History here at UH where he taught a graduate course on race, health, and the environment. Before joining UH, he served as an assistant professor of history at Florida State University. Dr. Mizelle received his Ph.D. from Rutgers University and his Master's degree from American University. His first book, Backwater Blues: The 1927 Mississippi Flood, Cultural Representations of Disaster and Mobility in New Deal-era America, will be published by the University of Minnesota Press in 2014. His research interests include the history of medicine, African American history, post-Hurricane Katrina Gulf Coast and New Orleans.
Kristin Wintersteen, Assistant Professor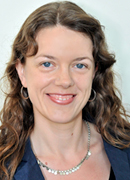 Prior to joining UH, Kristin Wintersteen was a Zemurray Post-Doctoral Teaching Fellow at Tulane University. While at Tulane, Dr. Wintersteen instructed a number of courses in the area of Latin American Studies. She also conducted a public history research project, "Down by the River," in conjunction with Louisiana Bucket Brigade, an environmental health and justice organization. Dr. Wintersteen earned her Ph.D. in 2011 from Duke University, her B.A. in Latin American Studies and Spanish from the University of Washington and holds graduate certificates in Latin American Cultural Studies and Latin American and Caribbean Studies.
Department of Modern and Classical Languages
Ying "Amelia" Qin, Assistant Professor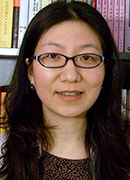 Amelia Ying Qin graduated from the University of Wisconsin-Madison, with a Ph.D. in Chinese literature (2013) from the Department of East Asian Languages and Literature and an M.A. (2010) from the School of Library and Information Studies. Prior to her study in Madison, she also completed degrees at the University of Rhode Island and Fudan University in Shanghai, China. Her current research interest is in the relationship and dynamics between cultural memory and historiography in Chinese anecdotal and historical narratives during the time period of 600-1300. She is also the translator of two chapters of The Grand Scribe's Records.
Moores School of Music
Julie Derges Kastner, Assistant Professor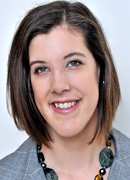 Julie Derges Kastner completed her Ph.D. in music education in 2013. She won honors at both Michigan State University and the University of Illinois at Urbana-Champagne, where she received her Bachelor of Music. For four years, she taught elementary general music in the Fairfax County Public Schools in Virginia, as well as early childhood music at the Levine School of Music in Washington, DC, a nationally recognized community music school. Her research focuses on early childhood music.
Department of Philosophy
D. Justin Coates, Assistant Professor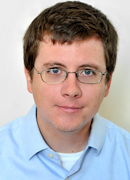 Justin Coates received his Ph.D in Philosophy in 2012 from the University of California, Riverside, and spent the 2012-13 academic year as the Law and Philosophy Fellow at the University of Chicago Law School. He specializes in ethics and the philosophy of action. He is the coeditor of an Oxford University Press anthology on blame, and already has 10 other articles and reviews published or in press. Dr. Coates earned his Master's degree in Philosophy from Georgia State University, where he was recognized with the Outstanding Graduate Student Award in 2007.
Department of Political Science
Francisco Cantu, Assistant Professor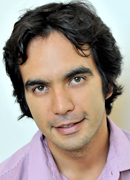 Francisco Cantu completed his Ph.D. in Political Science at the University of California, San Diego in May 2013. His research interests include elections, political economy, Latin America, and economic development. While at UCSD, Mr. Cantu taught a number of courses, including "Politics in Mexico" and "Politics in the Southern Cone of Latin America." Mr. Cantu's dissertation addresses the question of whether electoral corruption has vanished or remains a prevalent practice in Mexico.
Patrick E. Shea, Assistant Professor
Patrick E. Shea completed his Ph.D. in Political Science at Rutgers University in May 2013. His dissertation, "Sovereign Debt, War, and International Relations," examines why investors are willing to finance government wartime borrowing. He believes his findings will have implications on how we analyze war finance, state capacity, and military mobilization.  He earned his M.A. in Economics at Fordham University. Dr. Shea is the recipient of the 2012 World Politics & Statecraft Fellowship from the Smith Richardson Foundation and the 2012 Rutgers Special Study Opportunity Award.
Department of Sociology
Maria A. Monserud, Assistant Professor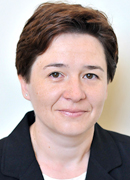 Maria A. Monserud received her Ph.D. at Washington State University and held post-doctoral fellowships at the University of North Carolina at Chapel Hill and the University of Texas Medical Branch in Galveston before coming to UH last fall as a Visiting Assistant Professor. Her research and teaching interests focus on intergenerational relationships, minority health, and aging. In her recent work on health outcomes among older Mexicans in the United States and Mexico, Dr. Monserud explores the associations between family factors, social embedment, and psychological well-being that are conditioned by gender and birthplace. She will contribute to the department's core research courses, as well as help to strengthen its work in comparative international studies.
---
Related Links