Student Spotlight: Andrea Sanchez, Moores School of Music
Drum major stretches her creativity for En Masse marching band performance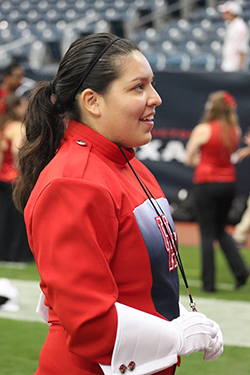 As a nervous sixth grader, Andrea Sanchez stood in front of a group of teachers stalling.
The instructors had asked her – twice – to tell them what instrument she wanted to play in her required music class. She had drawn a blank until she remembered a recent field trip to see a performance of "The Magic Flute."
"I just blurted out 'flute'," said Sanchez. "Two weeks into the class, I could not make a sound out of that flute."
Today, the College of Liberal Arts and Social Sciences student is a UH marching band drum major who is majoring in music education – and a flute teacher to middle and high school students.
"Now, I know that I was supposed to be a flute player," said Sanchez. "It all worked out in the end."
A conductor of her high school's marching band, Sanchez graduated from George Bush High School in Houston in 2009. Then, she enrolled at Texas Tech University in Lubbock with the goals of joining the marching band and going to law school after college.
She accomplished the first task. But even her time in the Texas Tech marching band could not convince her to spend four years and possibly longer in Lubbock.
"I just never felt like I belonged at Texas Tech," said Sanchez. "So after one year, I transferred to University of Houston. UH is exactly where I should have been the whole time."
Sanchez changed her major, too – to music education.
She joined the UH marching band, The Spirit of Houston, and rose to the rank of drum major. As drum major, Sanchez is responsible for providing commands to the band regarding where to march, what to play, and keeping time.
The Spirit of Houston primarily performs at UH football games, but they also perform at other events. One special event that Sanchez and other members of the marching band will be a part of this April is called En Masse.
En Masse is a performance of commissioned music written specifically for The Spirit of Houston by Cynthia Woods Mitchell Center for the Arts' Artist in Residence Daniel Bernard Roumain. Roumain, a world-renown violinist and composer, has collaborated with Philip Glass, Cassandra Wilson, Bill T. Jones, Savion Glover, and Lady Gaga during his career.
"I'm very excited about this piece," Roumain said. "It's coming at a great time because it allows me to write pure instrumental music on which others can create variations."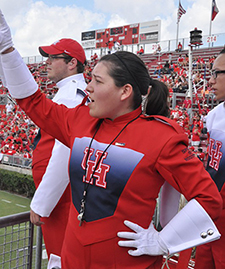 For the En Masse performance, Roumain is creating a production that will allow the audience to experience what it is like to be inside a "deconstructed parade," from a lone trumpeter perched on a rooftop to a processional of hundreds.
"It's about being big," Roumain said. "Big instruments, big sound and a big space. This is having an effect on what I'm writing. One bass line played by 50 instruments…that's thousands of overtones. One line of music played by a lot of people is very exciting."
Sanchez and other marching band musicians will spread out around the downtown park, Discovery Green, and visitors are invited to follow groups of band members on their path. Visitors may stay for an hour or experience the entire 4-hour musical marathon.
"Participating in En Masse will give me the opportunity to do something more artistic – something beyond the UH fight song," said Sanchez. "The band will get to experience how Roumain can manipulate and change music – something that traditionally isn't done."
Sanchez also plays the flute as a member of the UH Symphonic Winds, holds down a part-time job, and fulfills a weekly commitment to teaching flute to middle and high school students in Crosby, Texas.
"Working with the students is really challenging at times," said Sanchez. "Adapting and pacing is still hard for them. But I feel that if I am not frustrated sometimes, then it is not worth it!"
She is also involved in two other music-related campus organizations, Kappa Kappa Psi and Sigma Alpha Iota.
"I am currently the president of Kappa Kappa Psi, an honorary band fraternity," said Sanchez. "Kappa Kappa Psi is a service organization, so we ensure that the band members have water and snacks during the game as well as ensure the uniforms are properly tracked for cleaning."
As a member of the music fraternity Sigma Alpha Iota, Sanchez embraces the organization's goal to promote music in the community. She and other UH musicians and vocalists visit and perform in local hospitals and nursing homes as fraternity members.
"We are so fortunate to have Andrea as one of our Drum Majors," said Troy Bennefield, Director of Athletic Bands at UH. "Between her leadership role with the band and duties as president of our band service fraternity Kappa Kappa Psi, she has an amazing amount of responsibility towards the success of the entire Spirit of Houston."
"She will no doubt be a fine teacher and represent our university as an outstanding alumna for years to come," said Bennefield.
After graduation in Spring 2014, Sanchez hopes to be a secondary level educator. Her long-term goal is to be a conductor.
"When I was in preschool we took a field trip to the Houston Symphony," recalled Sanchez. "I was mesmerized by the conductor. I remember thinking that he had the most awesome job in the world."
- By Monica Byars