Former CNN Correspondent lectures on "one-man band" reporting
Working alone in Iraq, Alphonso Van Marsh broke the news of Saddam Hussein's capture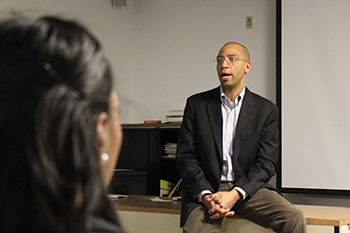 Alphonso Van Marsh, multi-media journalist and former CNN foreign correspondent
(VIEW MORE PHOTOS OF THE EVENT)
The video clip he wanted to show the class didn't work but, as a veteran journalist, Alphonso Van Marsh came prepared.
He moved right into his topic for the night: how he became the future of media. Marsh, a former CNN correspondent, guest lectured for Professor Carolyn Canville's Advanced Electronic News class on February 28. He's best known for breaking the story of Saddam Hussein's capture while staying on a compound with the United States military in Tikrit, Iraq in 2003.
"Alphonso's years as a foreign correspondent have taught him the right way to pack – and he packed plenty of entertaining and insightful stories into two short hours!" Professor Carolyn Canville said. "And he seasoned it all with a healthy dose of humor – another essential for anyone working in TV news."
Marsh opened with how his journey began at CNN as an intern chasing down network executives and begging them for a shot on-air. His tenacity landed him a position as a video correspondent – but not right away.
After his internship ended, Marsh said he sent postcards to CNN executives about the many stories he covered while overseas to show them what they were missing out on by not having him on staff. He didn't stop until they hired him.
His knowledge of digital newsgathering coupled with his non-mainstream approach to storytelling, helped Marsh score his dream job. He shared that he urged producers to send him where most journalists aren't willing to go: the Middle East and Africa.
By covering those parts of the world, Marsh invited audiences to learn about the art of "spinning" in South Africa and showed that "Y2K" was just the Year 2000 on some calendars and just another moment in time for some communities in Africa – and not the beginning of a global meltdown.
Students easily identified with his experience and his tenacity.
"Alphonso is a very inspiring man," said Vanessa Salgado, a broadcast journalism major. "He showed me that in this industry persistence pays off and that we should never give up on our goals."
Marsh stressed that he did freelance work and developed his skills as a multi-media journalist while waiting for his big break. Multi-media journalists, nicknamed in the industry as "one-man bands," produce, shoot, edit, write and even upload their own stories – without help from a traditional news crew.
In Marsh's case, by having a G4 computer, small digital camera, satellite phone and videophone, he could go live for CNN in seconds from anywhere in the world. He advised students preparing for careers in the broadcast industry to keep in mind that more newsrooms are moving toward one-man band journalism and that having skills in many areas will help them stay competitive.
Students also got a taste of what a one-man band reporter packs for protection while covering the front lines of wars and riots. Marsh brought equipment including a 40-pound bulletproof vest and helmet.
"The most memorable thing was definitely the gear he passed around the classroom, so we could try it out ourselves," said senior Stephanie Hernandez. "Who knows when I would've had the opportunity to witness something like that without his visit?"
- By Brittaney Wilmore,
a senior majoring in broadcast journalism major